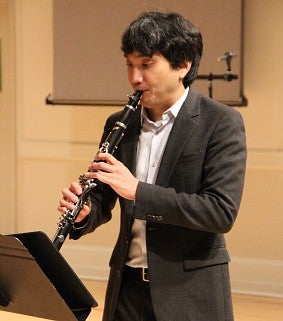 Years in the making, University of Oregon School of Music and Dance Associate Professor Dr. Wonkak Kim is nearing the finish line on a project that uplifts and celebrates underrepresented clarinet and piano works of Korean and Korean-American composers.  
He has curated eight such works and recorded them for a CD, which Kim describes as a "musical fusion of Korean traditional and contemporary Western/Korean music." He also recorded video performances of three of the pieces, so they can be distributed online to a wider audience.  
"The ultimate goal of the project is to expand our repertoire and expose people to a different style," Kim says. "The repertoire was almost nonexistent. This CD and the videos will almost double what is available in our existing repertoire- as there is really no standard repertoire by Korean composers yet." 
The Process 
Kim conceptualized the project about a decade ago but recalls there was not as much encouragement or interest in this type of program. "Nowadays, I think there's so much more enthusiasm and momentum for people to seek out this music," he says. "It's exciting!" 
Starting in 2019, Kim had an opportunity to commission two pieces by Korean composers. The project picked up steam in 2020 when he received the University of Oregon Presidential Fellowship, totaling $13,000. He used the funds to commission three more pieces. The pandemic slowed progress, but after discovering several more works, he curated eight pieces to make a full recital program.  
Funding from the Fellowship and SOMD's Committee for Equity and Inclusion grant was used to cover audio and video recordings. Grammy-winning audio engineer and producer, Brad Sayles, recorded the audio and UO's Jasper Walton recorded and edited the videos.  
The recordings were captured in March. Over three days, they recorded 45 minutes of music, taking more than 20 total hours. Kim played the clarinet and his wife, Dr. Eunhye Grace Choi, was on the piano.  
Kim poses in a photo with his wife and collaborative pianist, Dr. Eunhye Grace Choi. 
"It's a grueling process!" he said about the long days, made more challenging with a 1-year-old and a 6-year-old at home. "At the same time, I am ecstatic and relieved for so many reasons. This should have been done long ago. I am thrilled it finally came to fruition!"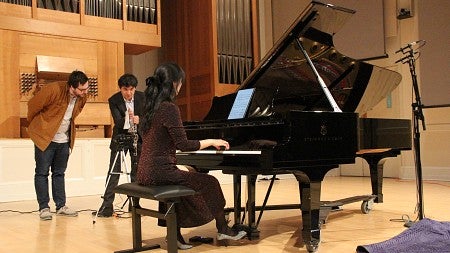 Kim collaborates with Walton for the video recordings. 
List of Works on the CD 
Nicky Sohn - Weather Change for Clarinet and Piano (2016) 
Jean Ahn - Blush for Solo Clarinet (2018) 
Joanne Na - Open Letters for Clarinet and Piano (2020, rev. 2022) 
Juri Seo - Arcade for Clarinet and Piano (2022) 
Hyunjung Ahn - A Beautiful Polonaise for Clarinet and Piano (2018) 
Jiyoun Chung - Ariaria for Clarinet and Piano (2022) 
SiHyun Uhm - Parents Love for Clarinet and Piano (2017) 
Eunseon Yu - Red Light! Green Light! for Clarinet and Piano (2022) 
The Impact 
Kim's fundamental interest in creating this project is not solely tied to representation and diversity, but also to exposing a wider audience to high caliber works. "I do consider these as works by Korean female composers, but they're also simply great works, new works, that we can play and will be added to our standard repertoire." 
One of the pieces has already proven a success. Shortly after Kim posted a video of him playing "Blush" by Jean Ahn on YouTube, it was selected to be one of the required pieces for the 2023 International Clarinet Association Young Artist Competition. "This is a prestigious, recognized competition with a storied history, so it is a big deal," Kim said excitedly. "It is gratifying to think that 'Blush' is now being studied and performed by some of the most talented young players around the world as they prepare to participate in the competition in July." 
The hope is that once the newly recorded videos are published, those works will also earn the visibility and recognition they deserve. The three works that were video recorded include, "Open Letters," "Arcade," and "Red Light! Green Light!" 
"During my studies in the United States, I have never seen a program that only comprised music by Korean composers," composer of "Open Letters" and SOMD graduate with a Master's in Music, Joanne Na, said. "In that sense, Professor Kim's support for new music by Korean female composers is incredibly special and important. What I love about this project is that the whole program is attached to the strand of "Korean heritage," but each piece is quite different from the others; it shows how strong and diverse the Korean female composers' musical voices are. I hope this outstanding program brings more attention to the new music of Korean-American composers." 
What's Next? 
Kim's CD will be available in early 2024. Its release will not be the end of the project! He says it will be ongoing, with the goal of commissioning and recording dozens of pieces throughout his career.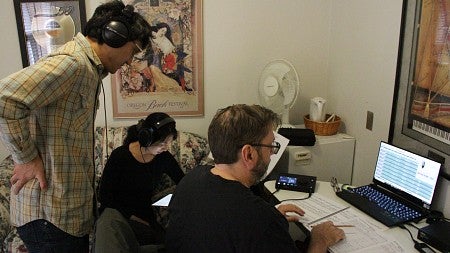 Kim, Choi, and Sayles huddle around a computer during the post-production process.