Parking for Cars  
Large parking lot on the corner of 18th and Alder is pay by the hour Monday through Friday 7 a.m. to 6 p.m. and free all other times.  Lot 18 at the corner of 18th and Alder is not a pay to park lot. It is a zone B South parking lot that requires a permit M-F, 7am – 6pm.
A round-about drop-off area just outside the school has two 24-minute parking spots for dropping off guests with mobility challenges.  
Free two hour and metered street parking on Sundays. 
Parking for Busses  
Busses are not allowed to unload passengers on 18th Avenue.  Bus drivers must pull into the parking lot on 18th and Alder Streets. Busses are not allowed to load/unload in UO lots other than the Clinical Services lot. They can not use lot 18 as described. 
There is a bus stop/drop off station on the west side of Clinical Services Building (RED BLOCK on the map) right next to our building.  
Chaperons and the students will need to walk up the hill from bus stop to Frohnmayer Music Building. The area labeled FROHNMAYER on the map is where you will enter the building.  
Unfortunately, there is no area to park the bus close to SOMD. Your bus driver will have to park at  Autzen Stadium.  
Please make arrangements with your driver to pick up at the same bus stop area later in the day.  
Parking Map   
The light-grey areas on the map indicate parking lots. The small black arrows indicate building entrances.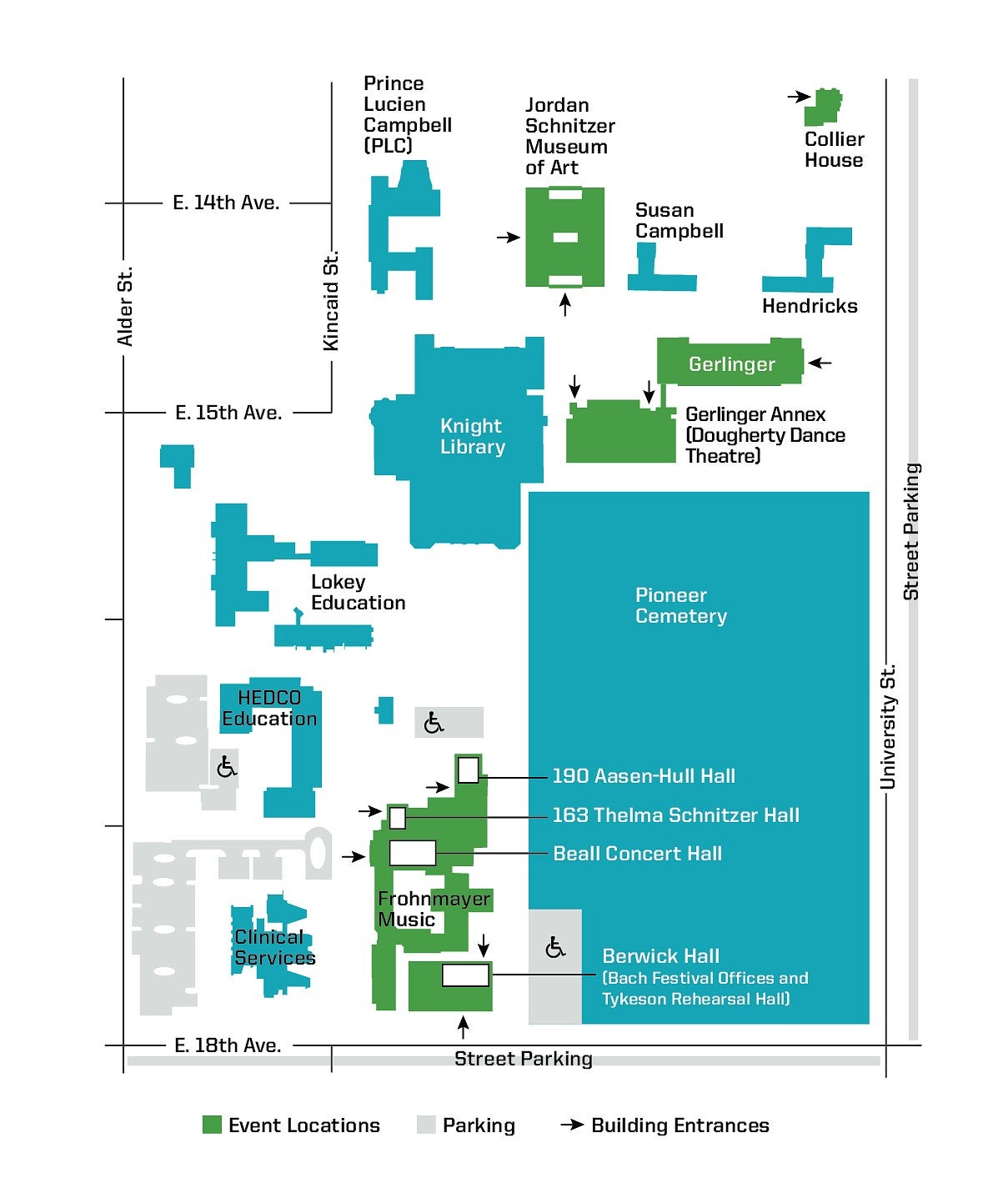 Accessibility  
Wheelchair-accessible seating and assisted listening devices are available in Beall Concert Hall. For special seating needs, call 541-346-3811 at least 24 hours prior to the concert to make arrangements.  
---