The University of Oregon's choral program provides intensive training and a dynamic environment for choral musicians of all ability levels, from the most seasoned choral singer seeking pre-professional training, to someone wanting to join choir for the very first time. The UO choral program offers diverse choral experiences, including international touring, presenting world premieres, performing choral-orchestral works, and appearing at the Oregon Bach Festival, in a welcoming community of students from any major across campus.
The voice program offers students individual lessons with faculty artists in the study of solo vocal literature, as well as weekly studio performance classes with opportunities for evaluation, discussion, and experimentation. 
Opera studies at the UO prepare the singing actor through training in acting, movement, stagecraft, and interpretation in productions and in scenes programs. 
Students participating in the vocal performance and choral studies programs have the opportunity to perform in fully staged opera productions and international choral festivals, as well as in collaborations with the Eugene Symphony, Oregon Bach Festival, and Eugene Opera.  
Choral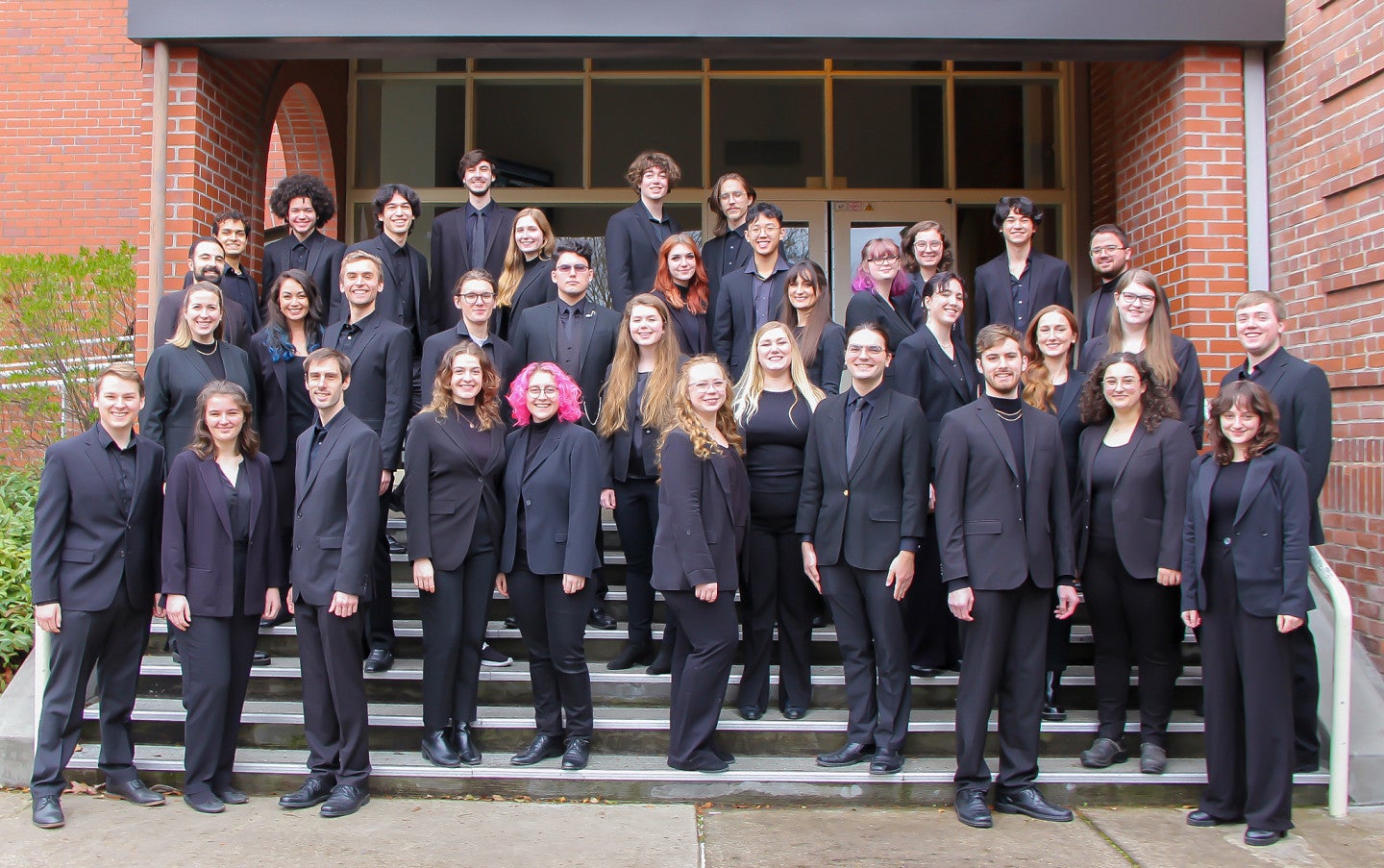 CHAMBER CHOIR 
Sharon J. Paul, director 
Meetings:  
M/W 2:00-2:50       
T/TH 12:00-1:20 
The University of Oregon Chamber Choir is a highly select mixed chamber ensemble of 28-36 voices specializing in a cappella repertoire from the sixteenth through twenty-first centuries. Members range from freshman through graduate students, primarily music majors with a few other majors represented, such as neuroscience and business.
The Chamber Choir has garnered international attention in recent years by placing first or second in four international choral competitions, most recently winning first prize in the Chamber Choir category at the Grand Prix of Nations Competition in Gothenburg, Sweden in August 2019.
In May 2022, after receiving a prestigious invitation from the Order of Saint James, the Chamber Choir performed Joby Talbot's Path of Miracles in Santiago de Compostela, the culminating concert of a nine-day concert tour of Spain.
In May, 2015, the Chamber Choir was one of 10 choirs worldwide invited to compete at the 14th International Chamber Choir Competition in Marktoberdorf, Germany, where they received second prize overall, won a special prize for the best interpretation of the compulsory work, and were the only student group to achieve a Level I recognition for an "excellent performance at the international level." Following the competition, they were honored to serve as the rehearsal choir for the International Masterclass for Choral Conductors at the Bavarian Music Academy under the leadership of Volker Hempfling (Germany) and Jonathan Velasco (Philippines).
Previously the Chamber Choir won First Prize at the 2013 Fleischmann International Trophy Competition at the Cork International Choral Festival in Cork, Ireland. In their first international tour, they took top honors in two categories at the 2011 Tallinn International Choral Festival in Tallinn, Estonia.
In the summer of 2017 the Chamber Choir embarked on a two-week tour of Spain, singing concerts in Madrid, Toledo, Segovia, Montserrat, and Barcelona. The tour culminated with an invited appearance at the World Symposium on Choral Music in Barcelona, where they presented two concerts, and served as the demonstration group for Dr. Paul's interest session on the role an understanding of the brain can play in designing engaging rehearsal techniques.
In 2014 the Chamber Choir became a resident ensemble at the Oregon Bach Festival, performing each summer under the direction of conductors such as Matthew Halls, Helmuth Rilling, Jane Glover, John Nelson, and Joann Falletta. In addition, they have performed at state and divisional conferences for the American Choral Directors Association and the National Association for Music Education. Their compact disc recording, Homeward, features live Chamber Choir performances from home and abroad.
Auditions are held during the Week of Welcome and into the first three days of classes fall term.  
REPERTOIRE SINGERS 
Sharon J. Paul, faculty advisor 
Meetings: T/TH 3:00-3:50 
Repertoire Singers is a select 25-30 voice ensemble that is conducted each term by one graduate student in choral conducting. Their repertoire is drawn from all musical periods and styles. Auditions are held at the beginning of each term. 
If you would like to audition for Repertoire Singers please attend the first rehearsal on Tuesday, 9/27, at 3:00PM in Room 163 in the SOMD, at which time we will arrange for a brief audition. If you have questions or would like to audition ahead of time, please contact Mary Brandenstein at mbrande3@uoregon.edu.
UNIVERSITY SINGERS 
Melissa Brunkan, director 
Meetings: MWF 11:00-11:50 
The University Singers is the premier large choral ensemble on campus, with a choral tradition at the University of Oregon extending back to 1945. The University Singers perform choral music from all periods and styles, with concerts both on and off campus. Members are experienced singers representing a wide variety of majors from across campus. The University Singers frequently have the opportunity to perform with instrumental ensembles such as the University Symphony Orchestra, the Eugene Symphony Orchestra, and the Collegium Musicum. Auditions are held during the Week of Welcome and into the first three days of classes fall term. 
---
University Opera Ensemble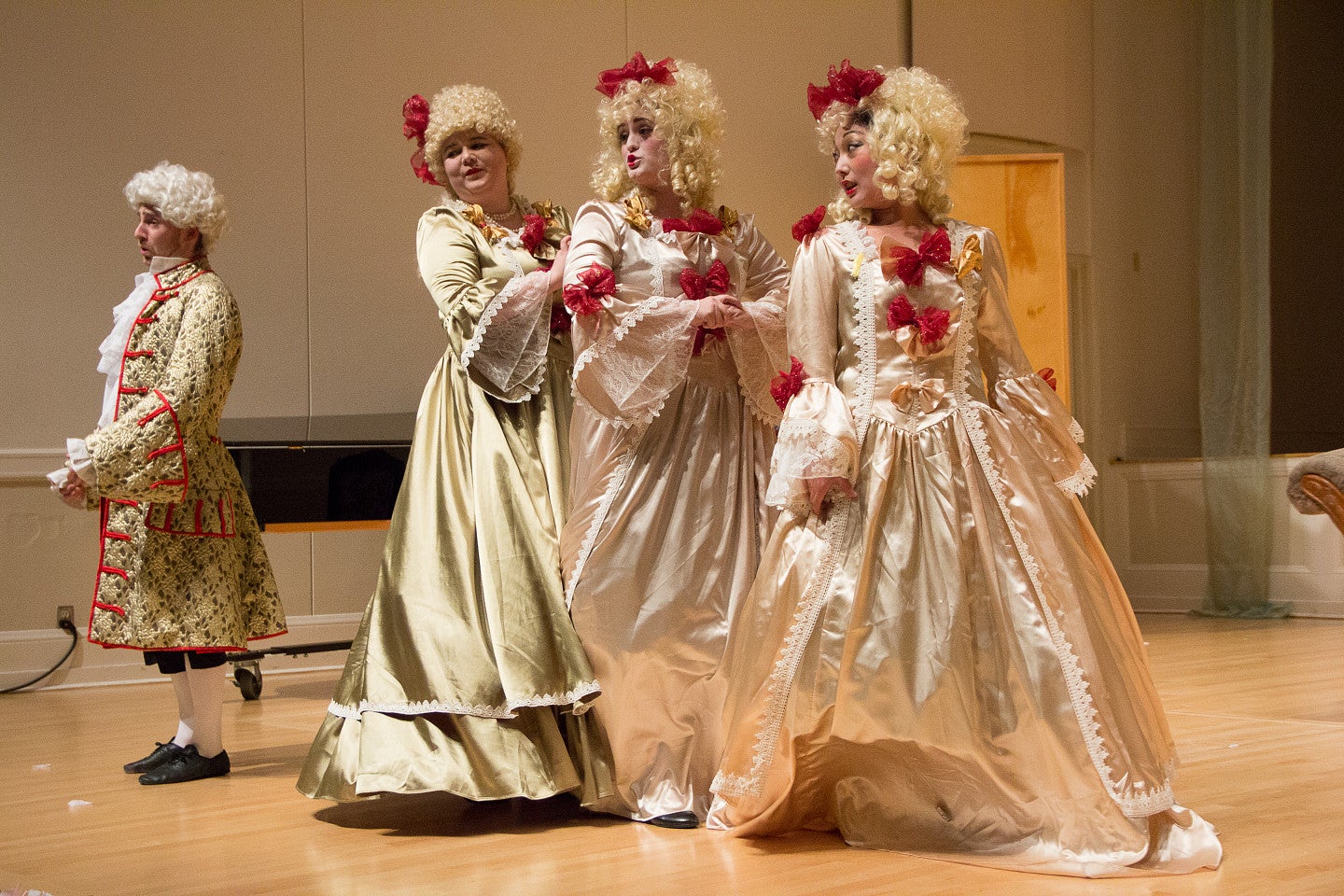 Karen Esquivel, director 
The University Opera Ensemble is a performance class open to all members of the university community by audition only. The class prepares the singing actor by offering training in acting, dance, interpretation, singing roles in foreign languages and related disciplines. The ensemble's goal is to give students the tools they will need to find a place for themselves in the current world of opera. 
The opera program at Oregon is committed to providing a bridge to the professional world in the United States, Latin America, Europe and beyond to help our students to flourish after they graduate.  
ALUMNI IN THE FIELD 
Alumna, Alishia Garcia, BMus '15, sings the part of Meg March in the 2016 Eugene Opera production of Little Women. 
Alumnus, Tim McCoy, BMus '15, sings the part of John Brooke in the 2016 Eugene Opera production of Little Women. 
UO Opera Ensemble visits Elementary Schools                                        
---
Gospel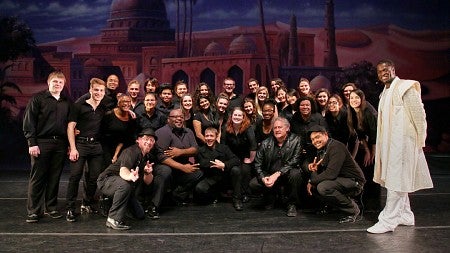 Andiel Brown, director  
Gospel Choir
The UO Gospel Choir is a large, all-comers choir, open to any student who wishes to learn and sing gospel music. No audition is required but a vocal placement exam is mandatory before joining. 
Gospel Ensemble
The UO Gospel Ensemble is an advanced choir of singers with a moderate background in the tradition of Black gospel music. Audition required. 
Gospel Singers 
The UO Gospel Singers is an elite group of singers from Choir and Ensemble with a strong background in the tradition of Black gospel music. The Gospel Singers are back-to-back, two-time national champions (2010 and 2011) at the Disney Gospel Choir Fest. Audition required. 
---
ENSEMBLE AUDITIONS 
We hope you will join one of our choirs this fall. All students (no matter their major), are welcome in any of our choirs.