Dear Alumni and Friends,
Each year, several thousand University of Oregon students benefit from our music and dance programs. It is on their behalf that the School of Music and Dance seeks to recruit the world's best performers and arts scholars. 
Our students learn and perform in top-notch facilities featuring state-of-the-art technology and high-quality instruments. We strive to ensure that access to a performing arts education is within reach by providing financial support to over one third of our students. 
Keeping the focus on students and on the quality of their education does not come without cost. 
Our current level of success is due to the generous contributions of our alumni, parents, and friends. We invite you to explore our Campaign webpage to learn about the various ways in which you can create opportunities for our students.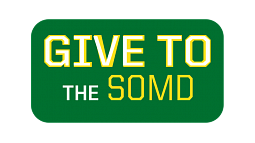 Together, we can ensure that future generations will know the UO School of Music and Dance as we do: as the premier higher education institution of music and dance in the Pacific Northwest.
Sincerely,

Sabrina Madison-Cannon, Phyllis and Andrew Berwick Dean
---