The University of Oregon School of Music and Dance serves as an educational and cultural resource for the University of Oregon, the local community, and the state of Oregon. We prepare students to lead enriching lives by providing comprehensive programs for professional arts-based careers, as well as those seeking to gain a fully realized liberal arts education.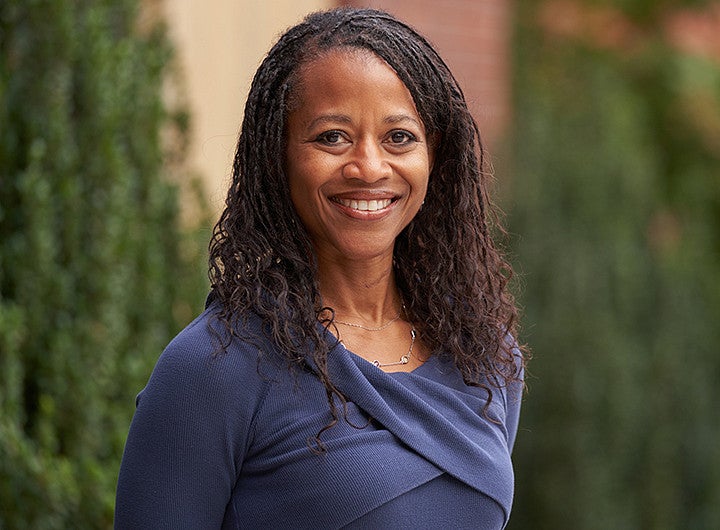 Dean Sabrina Madison-Cannon
Our school is led by Phyllis and Andrew Berwick Dean Sabrina Madison-Cannon. The dean is the chief academic and administrative officer of the school and oversees all aspects of the school's mission and operation and serves as the chief spokesperson and fundraiser for the school.
The dean serves as an ex officio member of the Oregon Bach Festival's Advisory Board and has oversight of the Oregon Bach Festival. She is advised by a Student Advisory Committee, a Faculty Leadership Committee , Area Chairs, and the Advancement Council.
We welcome risk-takers.
Our students and faculty foster experimentation and innovation by supporting the creation of new work that is grounded in the traditional canon and technique. The community is our classroom. This region is full of off-campus arts organizations, concert venues, and opportunities to perform. We aim to constantly learn from our past and strive for a better future. We welcome feedback from our students about how to improve our community and create a friendly, integrated environment that feels like a family.   
41
Music and Dance Programs
85
Faculty and Staff Members
Values and Culture
Our teaching is engaging, inclusive, and research-led. We seek to cultivate a synergy between academic and creative pursuits. We welcome risk-takers. We strive to experiment and invest in new creations while critically examining existing work. We look for opportunities to share music-dance knowledge and value all lived experience, all forms of education, and all fields of study that inform our artistic pursuits. We work to build and maintain a supportive environment so that our musicians and dancers feel safe to explore and flourish. The community is our classroom. Our area is full of off-campus arts organizations, performance venues, and creative opportunities, connecting student artists with the skills and information they need to effect positive change within their communities and move the fields of music and dance forward.
Faculty & Staff
The School of Music and Dance has the largest full-time, in-residence music faculty between Los Angeles and the Canadian border. We attract faculty from across the globe, including professors from Korea, China, Israel, Ghana, Brazil by way of Russia, and France. Each faculty member is renowned in their field and actively performs and presents research all over the world. Our faculty network attracts top notch guest artists and lecturers who can give students a first-hand glimpse into the lives of working artists and scholars beyond our campus.
Performance and Practice Spaces
SOMD has state-of-the-art recording studios, as well as numerous private practice rooms, while our performing spaces are unrivaled for the acoustics and performer comfort and safety. From the world-renowned sound balance in Beall Hall to the state-of-the-art sprung floors in all our dance studios, the SOMD provides students with incomparable support for their artistic pursuits.
Distinguished Alumni
Each year the School of Music and Dance honors one alum from each of our two primary areas—dance and music—with the Distinguished Alumni Award. Honorees are invited to address the assembled graduates at the spring commencement exercises. 
Work for the SOMD
The University of Oregon is an equal opportunity, affirmative action institution committed to cultural diversity and compliance with the Americans with Disabilities Act. The School of Music and Dance invites applicants of all backgrounds to apply.
UO School of Music and Dance
1225 University of Oregon
Eugene, OR 97403-1225