At the SOMD, we believe our graduates should be firmly rooted in fundamentals and grounded in the strength of the traditional canon, in order to grow and stretch beyond the artists who came before them. Our large, full-time, in-residence faculty foster a collaborative, dynamic laboratory in which student performers are given the tools—academic, artistic, technical, and social—to hone their craft to a professional caliber.
Ensembles at SOMD
Apocalyptic Brass (low brass)
Campus Band* (Concert Band)
Campus Orchestra*
Chamber Choir (SATB Vocal)
Chamber Music on Campus
Collegium Musicum (historically informed music)
Dance Oregon
DEMA (African Dance)
Future Music Oregon (intermedia music)
Gospel Choir* (SATB Vocal)
Gospel Ensemble (SATB Vocal)
Oregon Electronic Device Orchestra
Gospel Singers (SATB Vocal)
Green Garter Band (athletic band)
Hip Hop Ensemble
Jazz Combos
Jazz Lab Bands
Opera Ensemble (SATB Vocal)
Oregon Basketball Band (athletic band)
Oregon Brass Ensemble
Oregon Composers Forum (student composers)
Oregon Horn Ensemble
Oregon Jazz Ensemble
Oregon Marching Band* (athletic band)
Oregon Percussion Ensemble
Oregon Wind Ensemble
Oregon Wind Symphony
Pacific Rim Gamelan*
Repertoire Singers (SATB Vocal)
Track Town Trombones (trombone Choir)
Tuba-Euphonium Ensemble (TEUPH)
University Singers (SATB Vocal)
University Symphony Orchestra
Yellow Garter Band (athletic band)
Various student ad hoc ensembles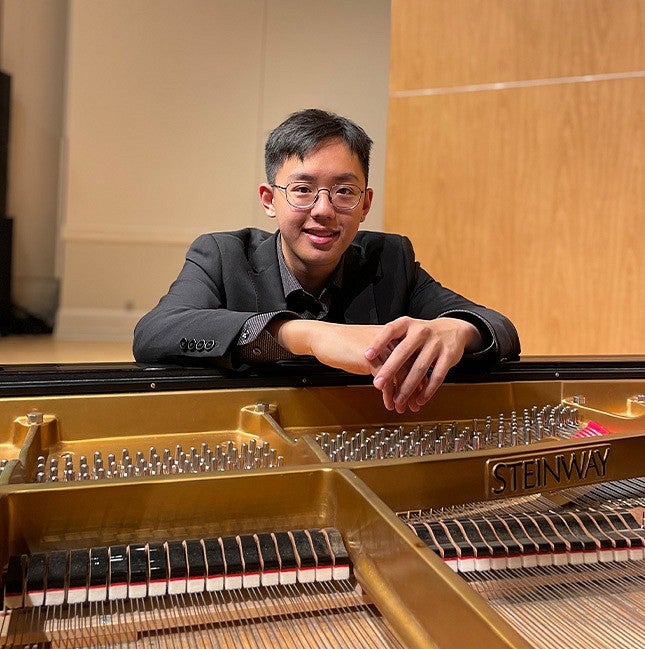 What Our Students Say
Dylan Nguyen is a double major studying music and pre-med. He knows it takes perseverance to find ways to study one's interests but is also aware it can lead to new discoveries and opportunities. In addition to his piano and pre-med coursework, Dylan rounds out his education and training by singing with the SOMD Chamber Choir. "Piano is, by definition, a powerful and solitary instrument that provides me with an individualized and intimate experience," says Dylan. "Singing in a choir and playing in a chamber group allows me to experience music in a more connected and collaborative way."
—Dylan Nguyen, '22
Major in Music and Pre-Medicine
Travel with SOMD
Our school prioritizes national and international travel for our students. We believe that lessons learned on the road, when we encounter people from different backgrounds, builds resiliency, camaraderie, and awareness that cannot be duplicated in the classroom. As a result, each year, one or more of our ensembles tours to a different part of the country or world to participate in conferences, competitions, and festivals. In just the past few years, our students have participated in:
The Cork International Choral Festival in Cork, Ireland
The Tallinn International Choral Festival in Tallinn, Estonia
The International Chamber Choir Competition in Marktoberdorf, Germany
The World Symposium on Choral Music in Barcelona, Spain
The Montreux Jazz Festival in Lake Geneva, Switzerland
Became the first gospel ensemble to ever make a public performance tour of The People's Republic of China.
An Opera Tour of Costa Rica
The Metropolitan Opera National Council District and National Auditions
The American College Dance Festival at the Kennedy Center
The Reno Jazz Festival
Academic track students have presented research in Germany, Sweden, Italy, China, and all over the United States and Canada.