The UO Department of Dance is a collaborative, dynamic laboratory in which student performers are given the tools— academic, artistic, technical, and social—to hone their craft to professional caliber.
Dance faculty members partner with students for independent studies, internships, and projects to realize personal research and performance interests. UO dancers are encouraged to collaborate with instrumentalists, composers, and other artists on campus to create new works.
Residencies and master classes with nationally and internationally acclaimed artists promote visioning from outside to stimulate student creativity.
---
Performance Opportunities 
The department supports and produces 5 student-centered concerts and many showings each academic year. Both majors and nonmajors are eligible to perform through audition.
Student Dance Collective 
Repertory groups such as the Student Dance Collective and Dema, an African dance ensemble, tour Oregon and the Northwest presenting concert performances as well as lecture demonstrations and master classes for public schools, colleges, universities, civic organizations, and community concert series.  
Collaborations with local dance groups, the Department of Theater Arts, and groups within the School of Music and Dance provide multidisciplinary performance opportunities. These activities carry academic credit. 
 Dema Dance and Drumming Ensemble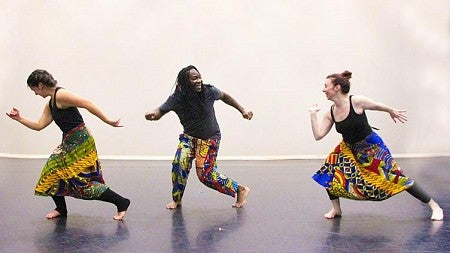 Dema African Dance and Drumming Ensemble is a diverse Department of Dance company directed by Assistant Professor Habib Iddrisu, a traditionally trained musician, dancer, and historian from northern Ghana. Dema consists of dancers, drummers, and singers who share a love and knowledge of African dance tradition with the surrounding on- and off-campus communities that Iddrisu calls "a total African performance experience." 
Continuing the good work of the now-retired Dance Africa, the Dema ensemble will combine the study and performance of traditional arts, including drumming, dance, singing, and storytelling from a variety of African cultures. 
"My goal with Dema is to advance cross-cultural understanding by providing an opening for UO students to move outside their comfort zones," says Iddrisu. "Students will expand their world views through performances, student interactions, and interactions with performers and teachers from African nations." 
Dema is will be open to all students, faculty, and staff of the UO. No audition is necessary. Local community members are also welcome to register for the ensemble by contacting the department office. 
---