The purpose of SOMD Advancement Council is to represent the mission of the University of Oregon School of Music and Dance. As advocates for the school, members of the council are asked to assist in three key responsibilities: advocacy, fundraising and sharing of expertise.
---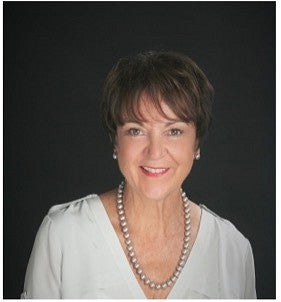 Jan Monti, '69, '71
Chair
Seattle, WA
Joined 2015
Janice (Jan) M. Monti founded The JANUS Group in 1991 to work with organizations and individuals wanting to improve their effectiveness. Growing from a foundation in career transition counseling, her work spans leadership training and coaching, team development and facilitation, culture change and retreat facilitation. The focus of her work rests on a three-part model of creating a clear and compelling picture of the future, developing a strategy to get there, and internalizing the discipline & practices required to stay the course.
Jan was Founding Director of the Executive MBA Program at the University of Washington. Under her leadership, the program achieved a top 20 ranking in Business Week as one of the nation's leading EMBA Programs. Prior to joining the UW, Jan was recruited by one of the Northwest's leading commercial banks to initiate and manage all training activities associated with its highly successful transition to retail banking. She also led a nonprofit training institute and worked as a college counselor and faculty member.
Jan holds a B.A. in Psychology and M.A. in Counseling Psychology from the University of Oregon. She is an active member of the community where she has served on several non-profit boards. She is a long-standing member of the King County Junior Achievement Board. She completed ten years as a Trustee of the University of Oregon Foundation in 2014 and is a past Director of the University of Oregon Alumni Association.  She is the 2008 recipient of the U of O's Jean Johnson Award given to the outstanding alumni of the year.
---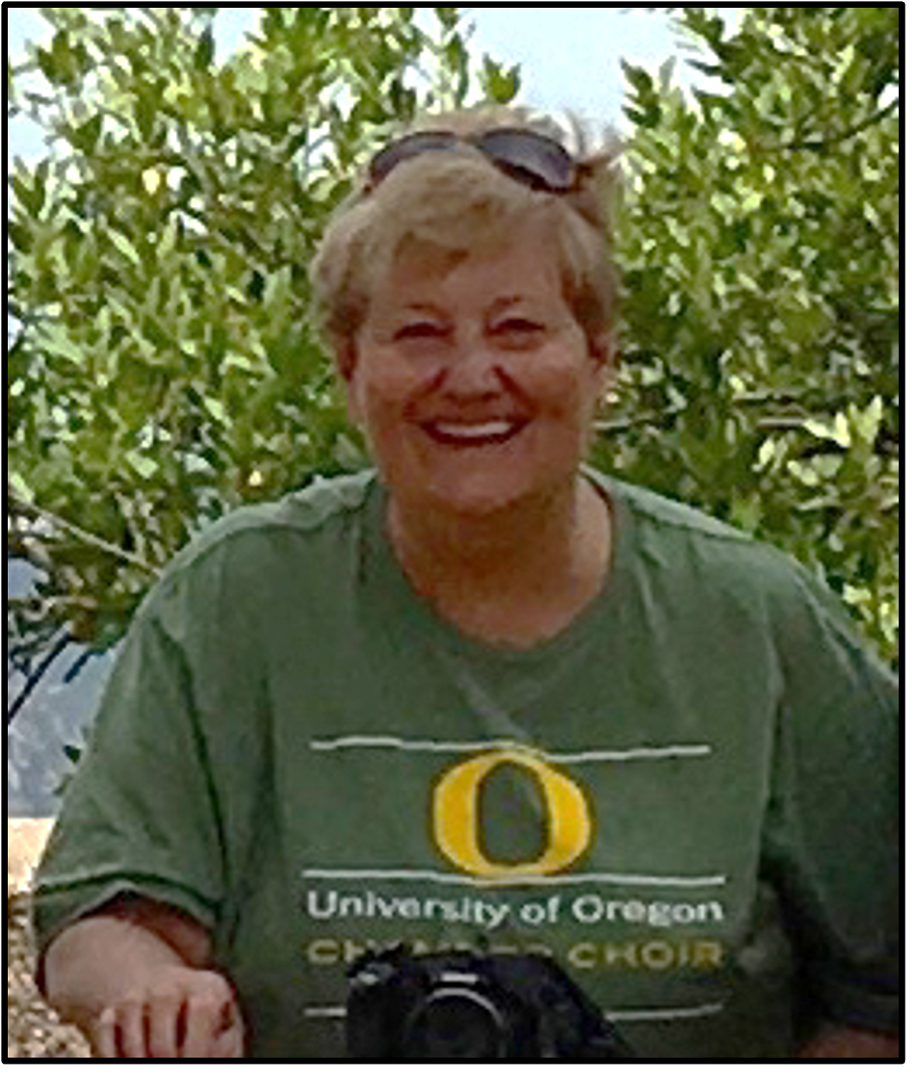 Connie Kulick
Eugene, OR
Joined 2017
Connie graduated from California State University in Sacramento, California in 1971 with a BSN, PHN in nursing and public health.
During her professional career in nursing spanning 39 years, she was a Navy nurse during Vietnam, village nurse in Guam, nurse manager of an Urgent Care and an Emergency Room and a staff nurse at multiple Level I and Level II trauma centers.
Upon her husband Tom's retirement from the US Coast Guard, the couple returned to his family home in Eugene. They have two adult daughters. 
Connie has been committed to several Eugene non-profits organizations over the last 17 years including WomenSpace and SOMD.  She has sat on both the Looking Glass and Eugene Opera boards.  She is one of the founders of the opera guild, Opera Ambassadors, and was their first President.
---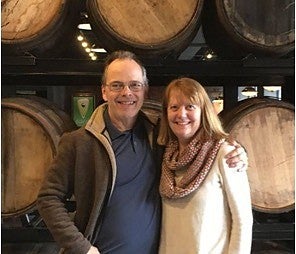 Mary Hogen
Jon Hogen
Vice Chair
Pasadena, CA
Joined 2015
Jon and Mary's son, Palmer, graduated from the UO in June 2019 with degrees in Computer Science, Math and Music. He is their only child.  
Jon is a financial advisor with LPL Financial in Pasadena. Mary sits on the board of her family's foundation based in Montgomery, Alabama. The foundation annually awards small scholarships to local high school students attending college.  
The Hogen's also serve on the Parent Leadership Council under the direction of the Office of Student Life. Jon was a longtime board member of the Ojai Music festival (termed off). 
---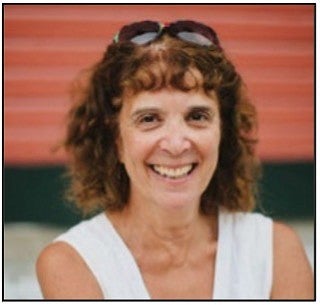 Sherrie Barr
Corvallis, OR
Joined 2020
Sherrie Barr earned her MFA in performance and choreography from the University of Wisconsin-Madison and is a Certified Practitioner in Laban/Bartenieff Movement Studies. Hailing from northern New Jersey, she has a rich history of teaching dance at many locales including Potsdam College of New York, University of Oregon, Michigan State University, Happendance School, and Wayne State University. Returning to Oregon to retire in fall of 2015, Sherrie now has a courtesy professor of dance appointment at the University of Oregon.  She is passionate about teaching movement practices, including creative dance and improvisation, modern and contemporary dance practices, somatic practices, and skills fordance making.
---

Ann Cole
Eugene, OR
Joined 2020
In Eugene, Ann has worked in nonprofits for over 20 years as a board member and completed a one year nonprofit management course from Lane Community College in 2011. She often serves when a transition is underway and has worked with Village School and Tamarack Aquatic Center through transitions that required reorganization and role clarifications.
Currently, she serves as a community member on the 4j Equity Advisory Committee to the Superintendent.
Ann is trained as a Dance/ Movement Therapist that brings together the fields of dance and psychology. She is a dancer and licensed professional counselor. Her work integrates the mind and the body through movement and touch. Three years ago, she became a licensed massage therapist.  Massage therapy and her ongoing training in Body Mind Centering have deepened her work with the body.
She has taught dance/ movement therapy to graduate students at Marylhurst College in Lake Oswego and served as a Dance therapy supervisor to graduate students at Antioch University in Keene, NH.  
---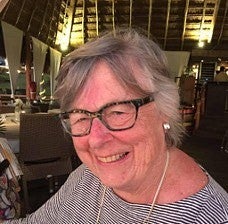 Mira Frohnmayer, '60
Chicago, IL
Joined 2012
Mira Frohnmayer studied at the Frankfurt Hochschule fur Musik, and in Berlin at Schiller College. She received her Bachelor of Music Degree from the University of Oregon, studying voice with Exine Bailey and piano with George Hopkins.  
Mira received a Master of Music degree in Vocal Performance from the New England Conservatory of Music in Boston in 1963. Her vocal studies were with Gladys Miller and Felix Wolfes. She regularly performed solo and ensemble concerts throughout the Northeast. Upon graduation, she was invited to be on the Adjunct Faculty of New England Conservatory, as well as serving as Vocal Instructor at Pine Manor College in the Boston College Consortium. Mira has participated in four Opera premieres, in roles specifically written for her. She has directed and produced Opera and Music Theater works in Boston and the Pacific Northwest. Mira also premiered works at the American Society of University Composers, the American Guild of Organists National Conventions, and was a favorite interpreter of the music of many contemporary composers in the Northwest, as well as on the East Coast. Performances were at the Oregon Bach Festival, Oregon Shakespeare Festival, Britt Festival, Haydn Festival and Rogue Valley Symphony Orchestra and Chorale in Oregon.   
In the Seattle area, she performed with many orchestras and choral ensembles as a soloist. She gave many solo recitals as well. She is an expert on music for voice and organ, having collaborated with several organists in that repertoire. In Europe she was a soloist with the Gaechinger and Frankfurter Kantorei's conducted by famed Bach interpreter, Helmuth Rilling. In Berlin, she studied at Schiller College toward a Masters in Theater. Professor Frohnmayer continued to juggle a professional singing career, as well as teaching, when she moved to Seattle.  In 1980 she became Chair of Vocal Studies at Pacific Lutheran University in Tacoma, Washington---a position she held until retirement in May of 2005.  In the time she was Chair the voice faculty grew to 14, and the students studying private voice were nearly 200, making the voice area the largest undergraduate vocal program in the Northwest.   
Mira's family has deep roots at the UO. Her late brother, David, served as dean of the Law School and ultimately as university president. The SOMD building is named for Mira's mother, MarAbel, who graduated from the school in 1932.
---

MJ and Phil Hillstrom, '68, '74
Eugene, OR
Joined 2019
Phil received a BA in Music from Michigan State in 1963, an MMUS in Music Education from the UO in 1968 and a DMA in Music from the UO in 1974. He taught music at Illinois State University before leaving academia and beginning a long career as an insurance agent with State Farm in Seattle. He retired in 2017 and the couple moved to Cascade Manor in Eugene.
Mj's undergraduate Music Education degree was from the College of Music at the University of Colorado. She earned her Master of Music Education from the University of Montana while teaching in Missoula Montana. While teaching in the Bethel School District in Eugene she also earned an additional teaching certificate from the University of Oregon Music Department. For 5 years in the early 1990's she also produced a children's program in the Oregon Bach Festival, called the "International Earport". After teaching music for 27 years she changed my education focus by earning another certificate in School Counseling from Seattle Pacific University in Seattle. She then finished her education career by being a high school counselor for 17 years in the Seattle area.
Mj and Phil met at the Oregon Bach Festival and married on the Oregon Coast. They have four children and nine grandchildren.
Mj and Phil still maintain their season subscription to the Seattle Opera and drive up for the concerts.
---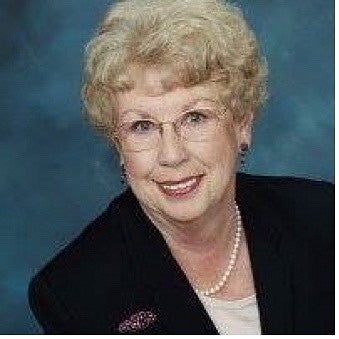 Ann Musgrove
Eugene, OR
Joined 2019
Ann was born in England and finished her education in Western Australia. After moving to the United States she began her career as a computer programmer in San Francisco. Ann moved to Eugene in 1973 as a faculty wife at the UO. Her career at the UO spanned 18 years before retirement as a Director for Development with the Central Development office.
Upon retirement she and husband Wayne Musgrove, retired president of Musgrove Family Mortuaries, made a gift to create a vocal scholarship at the School of Music. Thanks to friends and colleagues the gift became an endowment.
Ann has two children. Son, Christopher Lamon, graduated from the UO in 1992 with a degree in Political Science and is executive with Kimberly Clark. Daughter resides in Washington state.
Ann is a strong champion for the SOM opera program and attends the performances of her scholarship students whenever possible. She is also most interested in the progress of opera in Eugene having attended the first Eugene Opera performance in 1973 and later serving on the Eugene Opera Board of Directors.
---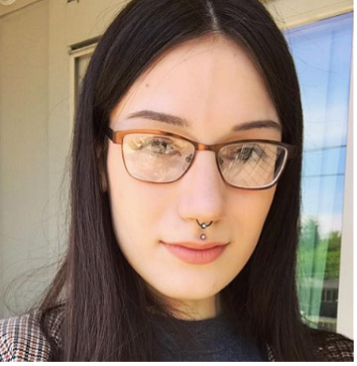 Gabrielle Choma, MM '21, PhD '24
Corpus Christi, Texas
Joined 2022
Garbielle is currently a PhD student in Music Theory at the University of Oregon. She recently received her Master's degree from UO in Fall 2021 after writing her thesis on Kaija Saariaho's 2000 opera L'amour de Loin. She is heavily invested in Kaija Saariaho's harmonic and timbral language along with other composers from the 20th and 21st centuries, particularly those from the French school of spectralism. Her first publication is titled "How Periodicity in Timbre Alters Our Perception of Time: An Analysis of 'Prologue' by Gérard Grisey," first presented at the international Timbre 2020 conference held virtually but hosted in Thessaloniki, Greece. She is now working on converting her thesis into an article for publication, as well as various conference presentations.
Gabrielle grew up in Corpus Christi, Texas where she began studying music at the age of 11. She began learning the viola and continues to study it to this day. Gabrielle has always enjoyed teaching, and found herself in many positions of leadership and mentorship throughout her life (viola section leader throughout high school, Supplemental Instruction Leader as an undergrad, childhood string instructor as an undergrad, various officer positions for the Lambda Gamma chapter of Sigma Alpha Iota as an undergrad, GE as an instructor in my post-undergraduate education, etc.), and this, combined with her burning curiosity and passion for understanding music, made a career as a music theory professor incredibly appealing to her. This led Gabrielle to UO to pursue further education after her undergrad, where she had heard (and then later experienced) much about the high-quality education here.
---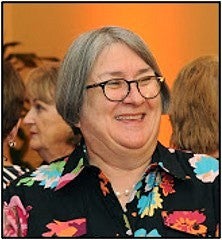 Natalie Guistina Newlove
Eugene, OR
Joined 2012
Natalie Newlove was born and raised in Eugene. She attended summer school at University of Oregon in 1968, and Graduated from Lake Erie College in Ohio. She says she attended Lake Erie to explore and experience other parts of the country. Natalie had a career in banking in San Diego County until birth of her son in 1986. After that she devoted her time to community volunteering.
Natalie became involved with School of Music and Dance after the death of aunt, Euphemea Laraway Culp, who loved music and made a bequest to the school at her death in 2002.
She is a strong supporter of the SOMD, JSMA and the library.
---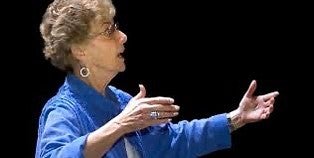 Doris Sjolund, '70
Medford, OR
Joined 2015
Doris received a BA in music education in 1963 with a major in clarinet from the University of Northern Iowa. She earned her MM degree from the UO in 1969, with most classes taken at the UO German Center for Music Education.
Doris is a retired music teacher, living in Medford, Oregon.  She taught music in Iowa, Louisiana, and Oregon. Doris taught high school choral, woodwind band programs, college music education for elementary teachers, and elementary music. She served as treasurer for OMEA and children's chorus board representation for Oregon ACDA. 
Doris has said she is proud to have started the Rogue Valley Children's Chorus in 1983. This auditioned chorus has now expanded to four choruses, 3-12 graders, and is called the Rogue Valley Youth Choruses program.
In the community Doris volunteers with the Southern Oregon Historical Society in the research library and the guild, is a SMART reader, is a member and secretary of the Colony Club.
She resides in Medford with her husband, Lynn, who was honored as outstanding grad of SOMD and as distinguished alumnus in 2014.
---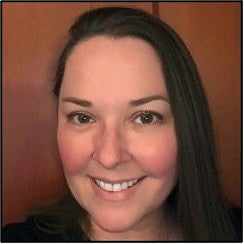 Lavinia Touchton
Mercer Island, WA
Joined 2022
Lavinia is originally from Tampa, FL, but moved to the Seattle area 27 years ago. She has a Bachelor's degree in English from the University of Virginia and a Masters of Liberal Arts in Psychology from Harvard University. Lavinia's son, Chris, is currently in his first year at the School of Music and Dance. Lavinia's partner, Jeff Adberg (U of O Graduate School of Architecture, 1989) and she divide their time between Mercer Island and nearby Vashon Island, where they are building a home.
Lavinia's professional background primarily has included non-profit volunteer and Board of Director experience, particularly in areas of middle and secondary independent education and parent peer support, with a focus on board development, fund development, and capital giving. In addition, Lavinia served for eleven years on the National Selection Committee of a foundation-supported, merit-based scholarship at the University of Virginia, and for the past eight years she has chaired the Seattle Regional Selection Committee for that scholarship.
---
Nicole Ainslie Galipeau
Shoreline, WA
Joined 2022
Nicole Galipeau has been a tenured faculty at Edmonds College for more than 20 years. She has a BA in anthropology from the University of Washington and a Master's in adult education from Eastern Washington University. Nicole works in the High School Completion Department teaching civics, contemporary world issues, and modern American history to international high school, running start, and adult learners. She has developed a world civilizations course and co-wrote two contemporary world issues textbooks. Nicole currently serves on the faculty professional development committee, the pre-college peer mentoring program, and the college's equity and inclusion pathways team.
Nicole co-created two non-profit foundations. The first was a small family foundation that provided grants for other 501(c)(3)s benefiting women and children. The other was an education foundation that worked with low-income, college-bound students and their families.
Nicole's son, Will, is a freshman at the UO majoring in Music. Her husband, Bill, is a general contractor in the Seattle area.
---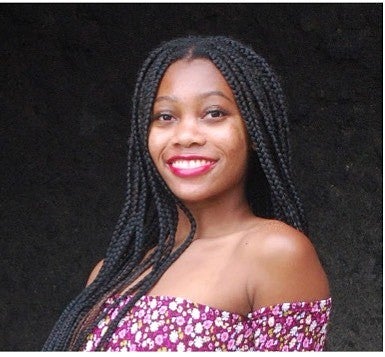 Kelsi Carter '24
Honolulu, Hawaii
Joined 2021
Kelsi Carter is an undergraduate student currently attending the University of Oregon as a sophomore, whilst pursuing a BFA in dance. She was born in Atlanta, Georgia but grew up on the island of Oahu. She and her family have lived there since Kelsi was six years old, and she is the second oldest of six of her siblings.
Her dance journey began when she was enrolled in competitive gymnastics at the age of seven. She soon realized dance was her passion when her peers would describe her floor exercise as a performance. With the help of her supportive parents, she discontinued gymnastics and became enrolled at a dance studio, and have been dancing for eight years.
Professionally, she has danced for Rachel Platten at the Pro Bowl performance in 2016. This past summer she was a summer hire for a nonprofit organization called Na Pono where she put together learning material for children's education.
Kelsi is looking to strengthen her leadership skills and be the voice for the dance department. Bringing forth ideas from all new incoming, and currently involved students to ensure each individual is being heard. She hopes to accomplish more performance opportunities for dancers during the pandemic under safe protocols and would love to see dancers being more involved in the community and not just in the studio.
---

Booka Michel
Austin, Texas
Joined 2021
Booka Michel is the founder of Loudhouse Records, based in Austin, Texas. Earlier in his career he served as a session and tour percussionist for musicians including Hoyt Axton, Odetta, Pete Seeger, Arthur Brown, Butch Hancock, Jimmie Dale Gilmore, and Townes Van Zandt.
Michel is the leader of his eponymous band Booka and the Flaming Geckos. The Geckos are longtime Austin musicians John X. Reed (Doug Sahm, Jimmy Dale Gilmore), Cindy Cashdollar (Bob Dylan, Van Morrison) and Glen Fukunaga (Joe Ely, The Dixie Chicks). 
Since 2000, Booka has produced award-winning albums, with Songs and Albums of the Year in Canada, Australia, Europe and the US in the Blues, Folk, World Music and American categories.
Booka's son, Jacob graduated from the UO in 2019 with a BS in Environmental Science. While he was a student, Booka served on the UO Parent Leadership Council.