The Oregon Athletic Bands provide energy and enthusiasm in the stands at athletic events throughout the year, and carry on a tradition of pride and musical quality to uplift fans and drive Oregon teams to victory. 
Oregon Marching Band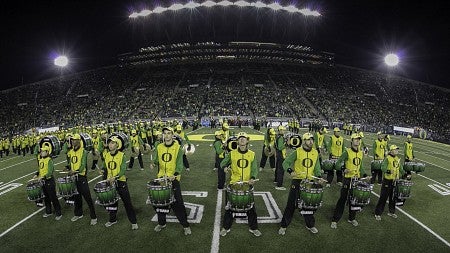 The OMB is one of the University's largest student-led organizations, with more than 200 members from nearly every department on campus.
OMB accompanies the football team to select away games, and in recent years performed at the Alamo Bowl (2021), Rose Bowl (2020), and the very first College Football Playoff National Championship game (2015).
Although traveling to bowl games is exciting, nothing beats performing in the sold-out, 54,000-seat Autzen Stadium. OMB performers achieve high levels of performance on and off the field.
Currently the OMB is a non-audition group with the exception of the drumline and color guard. See the Percussion and Color Guard pages for more information on their audition processes.  
---
Oregon Basketball Band 
The Oregon Basketball Band is made up of 80 members from the OMB who perform at the Oregon Men's Basketball games and at selected Oregon Women's games.  One of the best basketball bands in the country, the OBB is known for playing upbeat, exciting music with energy that electrifies the crowd.  The OBB plays an important role in giving Matthew Knight Arena its home court advantage.
---
Green and Yellow Garter Band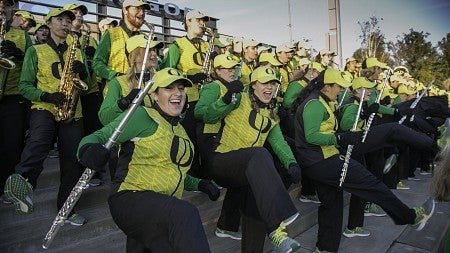 The Oregon Athletic Bands maintain two 12-member scholarship groups known as the Green Garter Band (GGB) and the Yellow Garter Band (YGB). Often seen performing around the stadium before football games, the GGB and YGB play everything from Louie Louie to their own arrangements. Instrumentation for the bands includes four saxophones (two altos, tenor and bari), one mellophone, three trumpets, two trombones, bass guitar and drums.  All members are selected by audition from the OMB. Green Garter Band members receive an annual scholarship of $6300. Yellow Garter Band members receive an annual scholarship of $1350. The Garter Bands perform for all women's volleyball games and selected women's basketball games, as well as many other performances on and off campus. A faculty member advises the group, but student directors organize all tune selection, rehearsals and performances.  
---