Three graduate students at the University of Oregon's School of Music and Dance (SOMD) will not only leave with a degree at the end of their studies but also with their names on an internationally released CD from the highly regarded label, NAXOS.   
As the world's leading classical music label, NAXOS is working to expand the depth and breadth of its catalogue. From this mission, it sought dedicated, passionate, and talented keyboard artists to help fill out its library. Enter Dr. Alexandre Dossin and the University of Oregon. 
Dossin, chair of the UO keyboard program, has a long-established relationship with NAXOS, having recorded seven solo CDs with the label over the course of 15 years, with four more scheduled for the near future. He is the driving force behind the new partnership between the University and the record label and selected three UO students to take on this project.   
"This partnership will elevate the piano studies at the University of Oregon to an entirely new level," Dossin said. "Naxos has partnerships with only a few selected institutions, including Yale University, Royal Birmingham Conservatory, and The Colburn School. Our top pianists will join this exclusive group of young artists who record for an international label during their years of study."   
"I was very excited, but I was also a little nervous, admittedly," UO Emergent Keyboard Recording Artist and SOMD DMA student, Tung Nguyen, said. "NAXOS is an esteemed company and the quality they expect is really high, but who could say no to this opportunity?"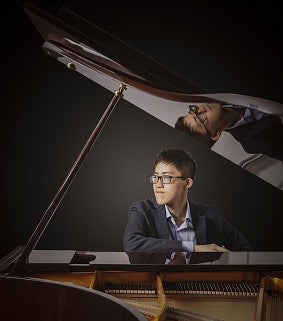 Tung Nguyen, photographer xtudio.hu 
Nguyen will record four lesser-known Wolfgang Mozart works for the project. "Not many people know about these pieces," he said. "They are shorter pieces, and they are orchestra transcriptions, so they were not originally written for piano. Mozart, himself, transcribed them, so it will be interesting for people to see how he would imagine it on the piano." 
DMA student Andrew Cannestra will record eight pieces by Polish composer Józef Wieniawski. "NAXOS is on a mission to record everything that has ever been written and it's an honor to be a part of that," he said.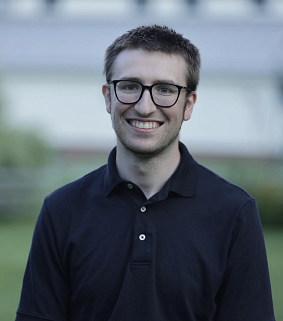 Andrew Cannestra, Photographer Dylan Kinneavy 
 Cannestra noted it was an overwhelming task to comb through the sheet music at first, since he had never heard of the pieces before. In fact, he has not been able to find any recordings from any pianist, anywhere, for about half of the pieces. "They are going to be world premiere recordings," he said. "I am probably going to be the person that introduces people to these pieces. How I interpret and play them is going to influence what people think of the pieces, so that is a lot of responsibility."   
Graduate student Jun Yun is set to record three works by Portuguese composer Arthur Napoleão. "I could not believe it!" he exclaimed. "I am so grateful to have this opportunity." While thumbing through the pieces, Yun has grown quite fond of them and is looking forward to the recording session. "The fact that I can make a recording is very exciting because I get to keep these pieces alive, and they don't just disappear after being performed," he said.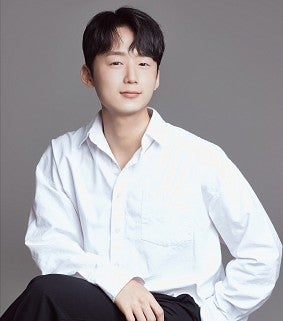 Jun Yun 
All three DMA students have decades of piano experience under their belts. Nguyen, a Vietnam native, started playing piano at five years old. "When I was very little, my grandfather introduced me to the piano," he recalled. "He was a music composer, so we always had a piano at home and it was very accessible. The more I tried to play on it, the more he encouraged me." 
Throughout his schooling, Nguyen fell in love with the joy he felt in sharing music with other people and performing with like-minded musicians. "I believe music is for sharing!" he said.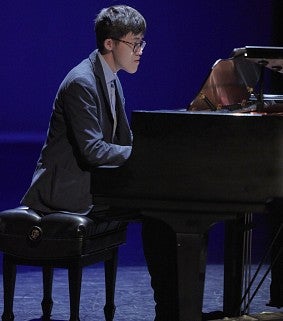 Nguyen performs, photographer Jennifer James-Long 
His musical journey continued after high school when he received a scholarship to attend the prestigious Liszt Ferenc Academy of Music. He graduated with his bachelor's and master's in piano performance before coming to UO for his DMA in 2020. "The graduate experience here is very different from Europe," he said. "In Europe, the focus is on how to be a good performer, but here I am also being exposed to the academic research side, and it gives me a deeper understanding into everything I have been doing up until now. Not only do you have to perform well but you also must understand why you came to the conclusions of what influenced your choice of interpretation."   
Cannestra, a Wisconsin native, has taken piano lessons for two decades. "I have never been able to imagine my life without piano," he beamed.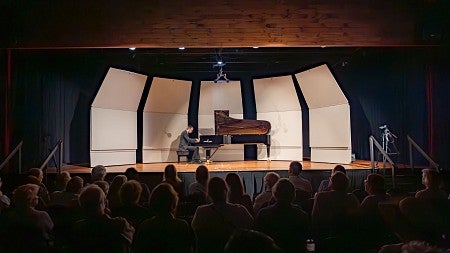 Cannestra performs, Photographer Andrew Walker 
Cannestra earned his BM in Piano Performance from St. Olaf College and his master's from the Chicago College of Performing Arts before landing in Eugene in fall 2022 to pursue his DMA. He was attracted to SOMD's program because he wanted to work alongside Dossin and Dr. David Riley. "I am not just interested in solo piano performance but also collaborating and this is a school that really encourages both. That really was a big draw for me." 
Yun, a South Korea native, was also drawn to SOMD by Dr. Dossin. "He is a fantastic teacher and the faculty, in general, is very supportive," he noted.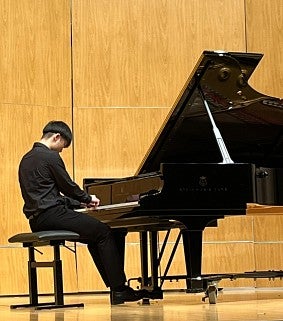 Jun Yun performs 
A piano player since the early age of six, he graduated from Ulsan University in South Korea with his bachelor's in piano in 2021. Then, he traveled around the world to Eugene for his Master of Music in Piano Performance, which he completed last year. "There is so much to discover with piano," he said about his love for the instrument. "There is so much repertoire out there and it is something I can explore forever." 
Nguyen's recording will take place first and is set for November, while Yun and Cannestra are scheduled to record in spring 2024. Taking the responsibility to heart, they are feverishly rehearsing their pieces. "I will lock myself in a room and take as long as I need to get to know this music," Cannestra laughed. "It is the kind of music you do not quite grasp the first time you read it, so it is taking time to figure out what the composer is trying to say and how I can best communicate that. Technically, a lot of it is incredibly challenging as well."