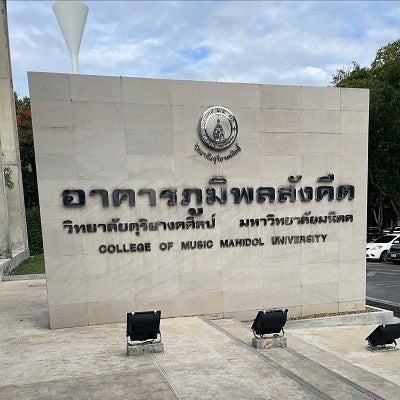 Entrance to Mahidol University, College of Music
World-class double reed artists and pedagogues from across the globe gathered at Mahidol University in Thailand for the International Double Reed Society (IDRS) conference in July. Seven University of Oregon School of Music and Dance faculty members and alumni attended, strongly representing SOMD overseas.  
"I have always been proud of my University of Oregon education," Aaron Pergram, an SOMD alum and conference attendee, said. "I believe this is a testament to the strength of the program and the commitment to excellence its graduates embody. Not only were the University's faculty and graduates present at the conference, but their music, artistry, and skills were presented as performers, composers, and teachers throughout the week." 
UO SOMD alumnus Cooper Wright co-hosted the five-day event. He graduated from the SOMD with a Master of Music in oboe performance in 2009 and is currently an Instructor of Oboe at the Mahidol University College of Music in Thailand.  
Wright spent four years organizing the massive conference, which hosted about 1,000 attendees and featured performances, masterclasses, and lectures. "IDRS was the hardest and most rewarding experience of my life," Wright said. He, alongside his fellow co-hosts, had a massive undertaking on their hands. They set a budget, made a call for proposals, coordinated rehearsals, recital times, and artist's' travel plans, and performed countless other logistical tasks. "The result of all this madness was a conference of which I can say was truly remarkable," Wright said. "I have taught in Bangkok for 11 years and I never expected to see a collection of "the biggest superstars" of our field come to our little corner of the earth. People I had dreamed of meeting for 30 years were suddenly in my backyard playing oboes, talking about their dogs and drinking beers after hours with us. It was truly a remarkable event!" 
As a kid who grew up on University Street in Eugene, where his parents still live today, and a graduate of South Eugene High School, Wright takes great pride in his Eugenian and Oregonian roots. His family also has deep ties to the University of Oregon, with his father a Controller and Assistant Treasurer at UO for 16 years and his parents and sisters collectively earning a total of five degrees from the university. "I grew up hanging around the SOMD, sneaking into the practice rooms and rehearsals," Wright added. "So, when I heard that Oregon faculty and composers were coming, it really meant a lot to me to know that they would support the trip. It is great to see that UO is willing to sponsor faculty to attend international conferences to recruit, represent, and display the talent that comes out of the university. It shows to the community that the University of Oregon is willing to continue to honor the legacy of the alumni, while also uphold and progress its reputation and standard of excellence."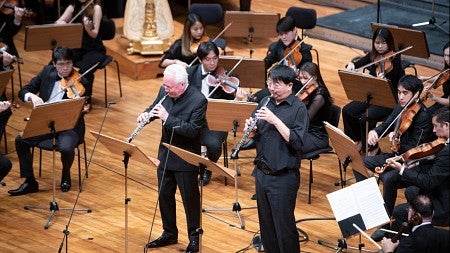 Beyond organizing the conference, Wright (pictured right) also performed alongside Gordon Hunt in the Concerto for Two Oboes by Tomaso Albinoni, accompanied by the Thailand Philharmonic Orchestra. 
Three additional alumni also attended and performed: Brian McKee, Aaron Pergram, and Sophia Tegart.  McKee graduated in 2012 with a bachelor's in bassoon performance. Currently, he is the program director for the Youth Orchestra Salinas in California. In Thailand, he performed in a chamber music recital entitled "Canciones Reinventadas: Latin American Chamber Music Reimagined for Bassoon" with his wife, violinist Diana Ramírez Rosales, and pianist Sara Choi. Works on the program included pieces by Antonio Lauro, Carlos Gardel, Sergio Delgado, and Astor Piazzolla.  
Brian McKee (BM '12) and Aaron Pergram (DMA '12) 
Pergram graduated in 2012 as well, receiving his DMA in bassoon performance. At IDRS, he served as a final round judge for the Norma Hooks Young Artist International Competition for Bassoon. "It was a great honor," Pergram said of his experience judging. "I am continuously impressed by the dedication and artistic level of young bassoonists from around the globe." He also performed a work for bassoon and piano by Yaming Wang with pianist Tipwatoo Aramwittaya. The piece is a part of his larger commission/performance project entitled "The Dragon Dream." Following the conference, he returned to Ohio where he serves as Assistant Professor of Bassoon at Miami University. 
In Thailand, SOMD alumna Sophia Tegart performed with the Pan Pacific Ensemble in a program entitled "Ambiguous Traces: New Works for Woodwind Quintet from Thailand and the Folk Flavors of the Zang, Yi and Miao Ethnic Minority People of China." The program included pieces by Narong Prangcharoen, the Dean of the College of Music at Mahidol University, Tanapon Chiwinpiti, and Chen Yi. The Pan Pacific Ensemble also joined with the Sawasdee Woodwind Quintet in a performance of a piece by Piyawat Louilarpprasert. Tegart received two master's degrees from SOMD. The first, in flute performance in 2006, and the second in musicology in 2007. Currently, she is Assistant Professor of Flute at Washington State University.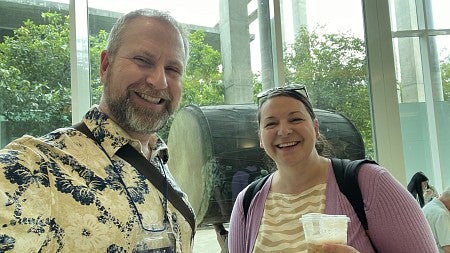 Steve Vacchi pictured with Sophia Tegart 
Three faculty members, Dr. Steve Vacchi, Lydia Van Dreel, and Melissa Peña performed and presented at IDRS.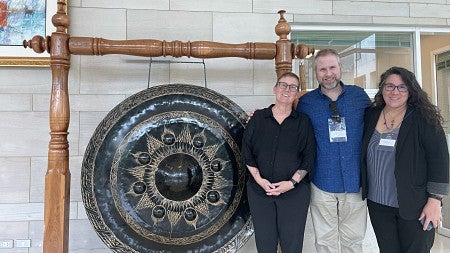 Pictured left to right: Van Dreel, Vacchi, and Peña 
Professor of Bassoon Steve Vacchi led a contrabassoon masterclass on orchestral excerpts and performed a solo bassoon recital entitled "Oregon Composer Connection," which included works by Tomáš Svoboda and two UO alums, Aaron Pergram and Katherine Saxon, a 2005 graduate with a master's in composition. "I really enjoyed meeting and (re)connecting with people in the double reed world," Vacchi said. "I heard some great performances and I saw some fine teaching presentations."  
Professor of Horn Lydia Van Dreel performed in a recital alongside Associate Professor of Oboe Melissa Peña and pianist Sara Choi. The works by Carl Reinecke, Jennifer Margaret Barker, and Adolphe Blanc were part of a CD Van Dreel and Peña are currently working to record together for oboe, horn, and piano. "My favorite part of IDRS was performing a few of these new works with Professor Peña!" Van Dreel said. "It was wonderful to attend this event with my double reed colleagues from UO." Peña, too, noted it was a joy to share their music with the audiences in Thailand. "I feel incredibly fortunate to have phenomenal artists and collaborators as colleagues in the SOMD," she added.