June 4, 2015—You may not suspect that the ensemble of a successful scholar would comprise a salmon-colored cloth jacket paired with a vibrant streak of bright green hair. 
You'd be wrong.
When it comes to former athlete and retired University of Oregon faculty member
Lois Youngen
, you're talking about a woman who not only wears her heart on her sleeve; she also wears it atop her head.
"I did it for my 81st birthday!" Youngen enthuses of her hairstyle, which frequently earns favorable comments from twentysomethings walking (or skateboarding) past. 
The green-and-yellow coif demonstrates Youngen's support for the University of Oregon, the institution at which she completed her second career.
The worn, pinkish jacket, which Youngen has treated with care since the day it was handed to her in 1951, represents her first career, that of a professional baseball star.
Each of the two careers has been good to Lois Youngen
—
so good, in fact, that the smiling, effervescent octogenarian finds herself in the blessed position of being able to give back, not just with her money, but with her memories, her time, and the proven experiences of a born leader. 
"I don't want my life defined by my baseball," Youngen states. The framed photos and memorabilia lining the walls of her beautiful home in Eugene's South Hills, however, demonstrate just how proud Youngen is of this period of her life. 
Playing sports was always important to Youngen, all the way back to her 1940s childhood in Westfield Center, Ohio. 
Lois' father, Elden, had been a pitcher for the Kent State University baseball team in the 1920s. Even as a young girl, Lois wasn't afraid to smash a few glass ceilings to follow in his footsteps.
"There were all boys in our neighborhood," Youngen recalls, "and they said, 'If you want to play ball with us, you can either catch or play right field.'"
Young Lois opted for the former—for a few weeks, at least—until other neighborhood ballplayers began mocking her teammates for allowing a girl among their ranks. Lois was unceremoniously benched… until, that is, her former colleagues realized they were losing more games without her talents, and ushered her back behind home plate once again.
Youngen's passion for the sport grew as she entered into her teen years, fueled in part by an interview with trailblazing female ballplayer Alta Weiss, a meeting arranged by family friends.
By the time Youngen was old enough to try out, the boys were back and the league had switched from softball to baseball
—
although the ball itself was a bit larger than regulation-men's size. 
"When I was 16 I visited a cousin in Fort Wayne in the summer, and she took me to see the
Fort Wayne Daisies
play one night," Youngen remembers. "I said, 'I can do that,' and the next day I had a tryout."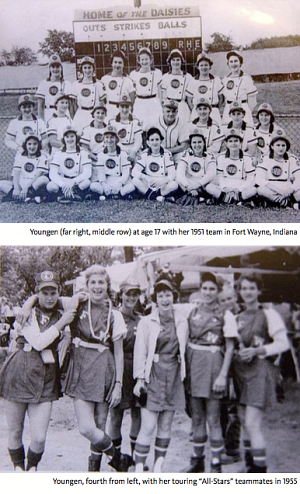 The next January, Lois received an invitation to join the Daisies for spring training in Virginia.
"I went, came back to high school for my senior prom and graduation, and became a Daisy, all in one week!" she laughs. 
Youngen premiered in the league 1951. Over the next three years, she played as catcher and outfielder positions for both the Daisies and
South Bend Blue Sox
. 
On September 3, 1953, Youngen caught a perfect game for South Bend against the Kalamazoo Lassies, leading to a 4-0 win for the Blue Sox. 
Nineteen fifty-four was the AAGPBL's final year, and in 1955 Youngen transitioned to Allington's All-Stars, a touring women's team formed by her former Daisies manager. The All-Stars traveled the Midwest, playing local men's teams as a sort of "Battle of the Sexes" novelty. 
Playing against and alongside the male players hearkened back to the sandlots of Westfield Center, and in a way, it was a poetic, full-circle experience for Youngen's last days playing the sport professionally. 
Going Green
Youngen had never neglected her education during her years on the road, and in 1955, she earned her Bachelor of Science degree from her father's alma mater, Kent State. After retiring from baseball, Youngen completed her Master of Arts degree at Michigan State University in 1957.
In 1960, Youngen applied for teaching opportunities in the physical education departments of both the University of Oregon and the University of New Mexico, resolving to move to whichever institution called her first. The early Duck got the athlete, and Youngen road-tripped across the country to the Great Northwest.
Youngen entered the UO at the rank of assistant professor. She taught an incredible twenty-six sports and activities
—
everything from softball, basketball, and volleyball to archery, badminton, and bowling. 
More than once, Youngen says, she was assigned to teach a sport with which she was unfamiliar, but she quickly picked up the rules and methods of the game before the first class. 
Somehow she found the time to work toward her doctorate, which she completed at Ohio State University in 1971.
Youngen says of academia, "If you hang around long enough, they make you chair," and indeed, in the 1990s she attained the position of UO director of physical activities and recreation services. Her legacy on campus continues; Youngen was instrumental in securing funding for the
Student Recreation Center
. 
During this period of her life, Youngen also developed a more personal legacy: lasting friendships with the faculty members of the
Department of Dance
. The university classified dance as a physical activity as much as an art form, and at the time she was a professor, the department was paired not with music, but with recreation studies.
The proximity of her dance colleagues not only expanded Youngen's idea of what physical education could be, it also led to a career-long relationship with a department she has always admired for its tenacity, collaborative spirit, and ability to do so much with so little.
There's no Retiring in Baseball
Youngen's first career came back to cultural prominence in the early 1990s. The 1992 film
A League of Their Own
, directed by Penny Marshall and starring Geena Davis, Madonna, and Tom Hanks, presented a fictionalized account of the formation of the AAGPBL and the Rockford Peaches, a rival club to Youngen's own teams.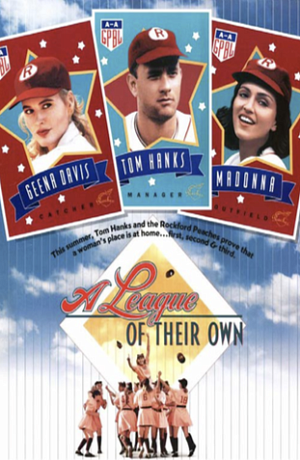 Youngen and some of her league peers visited the set before filming began, guests of Marshall, and she is duly proud of a grainy cast-crew photo she can readily produce from amongst her other memorabilia. The image shows sea of faces, with the film star celebrities arranged in the front row. Youngen points to one small head in the photo. 
"That dot, behind Madonna," she states emphatically, "is Lois!"
Old rivalries die hard, however, even the ones that have been simmering for more than six decades.  
"We have a reunion every year," Youngen laughs, "and we still hate the Rockford Peaches!"
Youngen retired from the University of Oregon in 1996, pleased with her life's work and ready for a bit of anonymity… or so she thought. 
Besides popularizing the story of the AAGPBL,
A League of Their Own
positioned women's baseball in the popular imagination, opening numerous doors for Youngen. Documentary filmmaker Ken Burns has invited her to speak about her life on two separate occasions at the
Baseball Hall of Fame
in Cooperstown, New York, where she is included in a permanent display on women in baseball.
Youngen's photo and player statistics have even been immortalized not once, but twice, on baseball cards, most recently in 2011.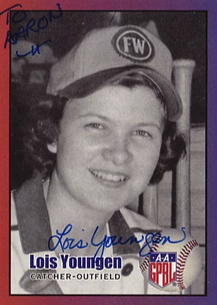 These days Youngen keeps busy with numerous activities, including a regular weekly walking group consisting of fellow retirees. Occasionally the friends' path through Eugene will find them wending their way through the UO campus, where Youngen will stop by Gerlinger Annex to say hello at the Department of Dance. 
The faces of the dance faculty members may have changed since Youngen's day, but their sense of gratitude is timeless. Youngen has pledged annual financial support for the department, funds that department chair
Jenifer Craig
plans to use in fall 2015 to provide travel assistance for alumni gathering on campus for a week of reunion performances and artistic residencies. 
Youngen's gift comes with no strings attached as to its intended use, so next year the fund could support students, faculty, or facilities.
Youngen's altruism doesn't end with dancers, either
—
she is also a donor to UO Athletics, as well as to
Lane Community College
. Youngsters play on a field she endowed for the west Eugene complex of the
local Babe Ruth League chapter
of youth baseball and softball. 
Perhaps most meaningful of all to her on a personal level, thanks to Youngen, a scholarship at Kent State bears her father's name.
Whether for her athletic career, her academic career, or her philanthropy, it is obvious that Lois Youngen, well into her ninth decade, is an admired fixture in the UO and Eugene communities. There is no disputing she is still vital, no disputing she is still beloved. 
After all, the proof is delivered directly to her doorstep. 
"I'm still getting a letter a week from someone who wants me to sign their baseball card!"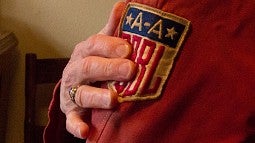 Text by Aaron Ragan-Fore
Photos by Erin Zysett
Historical photos courtesy of Lois Youngen