May 27, 2015—
Idit Shner
, associate professor of saxophone and
jazz studies
, has been presented with a University of Oregon 2015 Distinguished Teaching Award, the Thomas F. Herman Award for Excellence in Pedagogy. 
Prof. Shner and the rest of the 2015 class of awardees were 
profiled this week
on the UO's
Around the O
news website. 
Recipients are chosen by a committee made up of past award winners. In a university tradition, awards are delivered in surprise visits by top university administrators to each faculty member's native environment. Shner received her award in the the May 13, 2015 music faculty meeting. 
Barbara Altmann
, UO Senior Vice Provost for Academic Affairs, dropped in on Prof. Shner's class to present the saxophonist with her certificate and award trophy. styled like a wooden apple.
The selection committee's notes on Prof. Shner's performance and teaching include the following:
"Shner crosses musical boundaries with ease, and is as comfortable and competent in the classical world as in jazz. Her students are frequent recipients of awards in both idioms, having been named (for instance) "Outstanding College Saxophonist" at a national competition, and played in ensembles that were given the prestigious Downbeat Magazine Award.
"A passionate and committed teacher who is known for her bluntness, sense of humor, and high standards, Shner is respected for her ability to diagnose technical problems, offer concise remedies, and motivate students. Her students consistently rate her high on 'communication,' 'course quality,' and 'amount learned.'"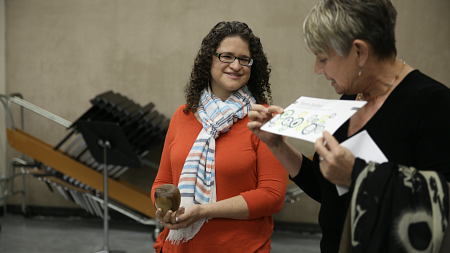 "Teaching studio lessons can easily go unnoticed," Shner says. "I pour my soul into it every day and it is nice to know this Sisyphean effort is recognized across campus."
"I am happy to receive this award, but mostly proud of my students and their achievements," Shner added. "I also want my fellow performance faculty to know that what we do does matter."