Pianist Lara Downes brings her "luscious, moody, and dreamy" (The New York Times) artistry to the University of Oregon for a virtual spring residency that includes a unique blend of performance, historical exploration, and pedagogy. All events are online and open to the public. Register Now!
THEME Series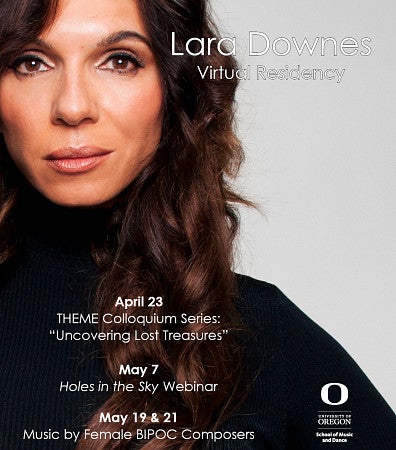 "Uncovering Lost Treasures"
Friday, April 23, 2:00pm
In this session, Ms. Downes will speak about her experience uncovering a set of previously undiscovered music by composer Florence Price and many other composers of color, and her collaboration with scholars and publishers to make this music widely available to professionals and students. Register Now!
Oregon Bach Festival Concert Preview "Holes in the Sky" WebinarFriday, May 7, 7:30pm
As part of OBF's anticipated 2022 season, Ms. Downes will present "Holes in the Sky," a project that celebrates the power of female creativity and the women who inspire her to make holes in the sky. The concert will feature newly discovered works by Florence Price, new works from Julia Adolphe, Clarice Assad, Angelica Negron, Paola Prestini, Elena Ruehr, Marika Takeuchi and others, as well as original arrangements of iconic songs by Billie Holiday, Abbey Lincoln, Joni Mitchell, and Nina Simone. This webinar will be a lecture-recital presentation to illuminate the stories behind the music.  Register Now!
Piano Master Class and Discussion "Music by Female BIPOC Composers"Wednesday, May 19, 10:00am and Friday, May 21, 10:00am
These workshops will be the culminating events involving students from the MUE 473/573 Piano Pedagogy class and teachers from the Eugene chapter of the Oregon Music Teachers Association (OMTA). In advance of the events, UO piano students and local Eugene piano students will learn pieces by black female composers including Florence Price and Margaret Bonds. The master class will feature students performing the works for Ms. Downes, who will teach a class on how to perform and teach this music. This project will help UO piano pedagogy students and OMTA teachers to learn more about music written by these composers, how to discover more BIPOC music for teaching, and encourage inclusion of these composers in the teaching repertoire. Register Now! 
About the Artist
Lara Downes is among the foremost American pianists of her generation, a trailblazer on and off-stage whose musical roadmap seeks inspiration from the legacies of history, family, and collective memory.Downes' playing has been called "ravishing" by Fanfare Magazine, "luscious, moody and dreamy" by The New York Times, and "addicting" by The Huffington Post. As a chart-topping recording artist, a powerfully charismatic performer, a curator and taste-maker, Downes is recognized as a cultural visionary on the national arts scene.Lara's forays into the broad landscape of American music have created a series of acclaimed recordings, including America Again, selected by NPR as one of "10 Albums that Saved 2016", and hailed as "a balm for a country riven by disunion" by the Boston Globe. Her recent Sony Classical debut release For Lenny debuted in the Billboard Top 20 and was awarded the 2017 Classical Recording Foundation Award.Her Sony Masterworks recording Holes in the Sky, a celebration of the contributions of phenomenal women to the past, present and future of American music, was released in March 2019, debuting at the top of the Billboard charts. For Love Of You marks her concerto recording debut, and celebrates the 200th birthday of the great pianist and composer Clara Schumann. Her most recent project, Rising Sun Music, is a transformative series featuring new recordings of music by Black composers spanning 200 years and reflecting a stunning array of musical voices that define the American canon. Downes enjoys creative collaborations with a range of leading artists, including multi-instrumentalist/composer/singer Rhiannon Giddens, cellist Yo-Yo Ma, pianist Simone Dinnerstein, folk icon Judy Collins, baritone Thomas Hampson, writer Adam Gopnik, and former U.S. Poet Laureate Rita Dove. Her close partnerships with prominent composers span genres and generations, with premieres and commissions coming from Jennifer Higdon, John Corigliano, Stephen Schwartz, Paola Prestini, Clarice Assad, Michael Abels, and many others.Downes' fierce commitment to arts advocacy, mentorship and education sees her working in support of non-profit organizations including PLAN International, the Sphinx Organization, the Lower Eastside Girls Club, Washington Performing Arts, and NPR's From The Top, where she appears as a rotating guest host.In 2020 Downes celebrates the Year Of The Woman with world premieres of newly discovered works by Florence Price and Margaret Bonds, and large-scale commissions from Paola Prestini and Clarice Assad, in collaboration with the Chicago Symphony and the Louisville Orchestra.Ms. Downes is represented by Cadenza Artists and is a member of the Yamaha Artist Roster.