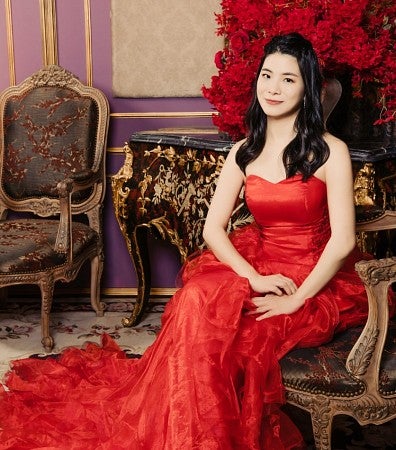 When the position of Assistant Professor of Historical Keyboards opened at the School of Music and Dance (SOMD) this past spring, Dr. Joyce Wei-Jo Chen 陳瑋若 seized the unique opportunity with enthusiasm! The role required expertise in performance and musicology, a combination she had never seen before. With a background in both, it was tailor-made for her.   

"I'm very grateful," she said after getting the job and moving to Eugene in September. "I didn't think this kind of position would ever exist. It's one of a kind. I am very honored to be here, and I really appreciate how welcoming this community has been since I arrived two months ago."  

Dr. Chen, a solo harpsichordist with a background in violin and piano, has graced stages across the United States, France, Belgium, and Taiwan. She discovered her love for the instrument during college while at an audition for the UC Berkeley University Baroque Ensemble. "It clicked with me right away!" she remembered. "This is the instrument I have been waiting for—a medium through which I can fully express myself. I love the sound. When I play the harpsichord, I forget everything else. I am fully absorbed in the process. Everything I wanted to do with baroque music clicked when it came to the harpsichord, so I decided I would focus on learning it."  

She dedicated much of her studies to the instrument, even developing a prototype of a closed-loop self-tuning harpsichord device as her senior project for her mechanical engineering degree at UC Berkeley. After graduating, she received two master's degrees in harpsichord performance and music history & theory as well as a DMA in harpsichord performance from Stony Brook University.   

During the pandemic lockdown, she wanted to challenge herself beyond the academic study of the instrument, so she built a harpsichord from scratch using a Troubadour Virginial kit. "At the time I thought I bought, essentially, an IKEA kit for a harpsichord," she mused. "I was really wrong!" In total, she spent about 500 hours on the project. "It was really tough but rewarding at the same time," she recalled. "The artisanal knowledge that goes into an instrument is impressive, and it takes decades to perfect that skill."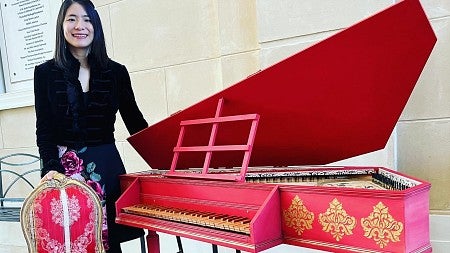 Dr. Chen poses with the harpsichord she built 
In addition to her teaching responsibilities, Chen is on the verge of releasing her inaugural solo harpsichord album, featuring English virginalist music and scheduled for a 2024 launch. "It's so exciting because these are some obscure works by William Byrd and Giles Farnaby, and I recorded them on virginal and Italian instruments."  

She is also completing her PhD dissertation at Princeton University: "Musica Experientia/Experimentum: Acoustics and Artisanal Knowledge in the Global Seventeenth Century." It explores the intersection between science, music, and aesthetics involving instrument-making, sensory experience, and the development of acoustical theory. For the project, she spent four months working as an apprentice at Zuckermann Harpsichords International—the last harpsichord manufacturer in the United States—in Stonington, Connecticut. She expects to defend her dissertation in Fall 2024.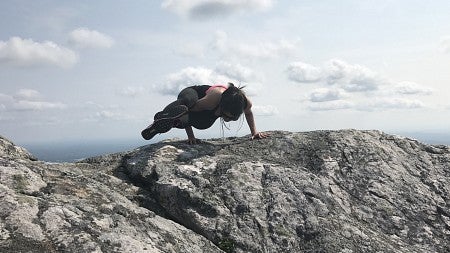 Beyond her professional pursuits, Chen practices hot yoga and enjoys tackling home improvement projects, a hobby she discovered while mastering power tools during the harpsichord-building process. As a fan of astrology, she playfully named her cat after her star sign: Aries. A newlywed, she lives in Eugene with her husband Carl who she married in June 2023 at Princeton University Chapel.