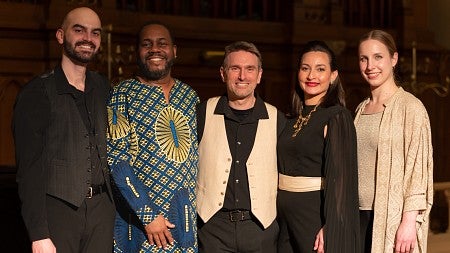 The Elsewhere Ensemble poses after performing Invocation—A Prayer for Peace, Photo: Joseph Wenda 
An intimate and contemplative work by composer Colin Pip Dixon, Invocation—A Prayer for Peace, challenges its audience to consider the role religion plays in their lives and the world. The 90-minute-long work is a setting of sixteen different prayers, poems and writings from diverse cultures and beliefs around the themes of peace, violence, and faith.  
Performed by the Elsewhere Ensemble, the music brings these texts, written from the 8th century BCE to the present, to life. From Christian prayers to Buddhist texts, Colin aims to "create a space where people can receive what they need to receive from these words of wisdom from humanity, from across time, from across faiths, and from across cultures." 
University of Oregon School of Music and Dance instructor of viola, Arnaud Ghillebaert is the co-artistic director, co-producer, and performer, alongside Colin.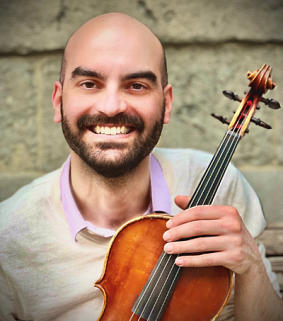 SOMD instructor of viola, Arnaud Ghillebaert 
The couple is taking the work on the road this summer, heading to an International Peacebuilding Conference on June 16 in Virginia. "It's very exciting because it's totally new for all of us to be connected with that world and to see how they react to this work," Colin said. 
Before the audience in Virginia is asked to grapple with the religious exploration of Invocation, they will first be asked whether they wish to partake. Invocation's first piece by writer, philosopher, and poet, Báyò Akómoláfé, reads, "The times are urgent. Let us slow down. Let us make sanctuary." 
"I think one thing that's been very important is that the idea is really to invite people in that space and not force it on them," Arnaud said. "It's something that we've been very cognizant of and sensitive to." That is especially crucial when the work examines a difficult question: "Do our beliefs drive us further into violence or lead us towards deeper peace and reconciliation?" 
This inquiry originated from an experience Colin had while living in New York City when Osama Bin Laden was killed. While passing a newspaper stand in 2011, he saw a headline that read, "ROT IN HELL". "That shocked me," Colin recalled. "Of course, I understand the sentiment. Humanly, we all have that reaction of wanting someone who has done horrible things to rot in hell, but it also encouraged deeper introspection. Is this who we want to be? Do we want to be the people who say, 'rot in hell'? Do we want to wish anybody to rot in hell? Is that the religious language we want to use?" 
From that epiphany, Invocation was born. Colin started to research the best words people of faith have given the world, as well as the words that have challenged us. When Arnaud learned about what Colin was working on, he knew he had to be part of it. "The texts he chose were speaking to me personally and on a very deep level," Arnaud remembered. "His idea of reconciling these texts with music was just something wonderful. It felt like a real gift and something important. I was happy to be part of it." 
With a decade separating the inaugural performance from the current day, the theme of religious division is still ever-present, so Colin and Arnaud have revisited the work. They expanded the original composition and performed the new version at the University of Oregon and in Portland in March. "We are hearing more and more rhetoric about violence and religion," Colin commented. "But at the same time, I have experienced meeting people from all different faiths and people who had no faith, who all spoke about an overarching longing for a deeper peace and reconciliation."
Video snippet of their Invocation performance in March
Grammy winning baritone Kenneth Overton, internationally acclaimed soprano and SOMD faculty member Camille Ortiz, and a string trio, two of whom are Colin and Arnaud, perform music based on the writings by:  
Shantideva 
St. Francis of Assisi 
Rabbi Nachman of Breslov 
Rabia Terri Harris 
Frederick Douglass 
Albert Einstein 
Etty Hillesum 
Captain Paul Watson 
Jalalludin Rumi 
Báyò Akómoláfé 
Dr. Martin Luther King Jr 
Chandogya Upanishad 
"People have been saying those words of wisdom for thousands of years now," Arnaud said. "These ideas are nothing new, but they have been expressed in different ways at many different times and eras. It is special to be able to grapple with them." 
Invocation stops short of giving its audience any solutions or telling its audience what to think, and that is intentional. "I'd rather create a space where they could have their own experience of these words from across faiths and cultures that challenged us, nourished us, and spoke to, hopefully, the best in us as humans," Colin says. 
"We cannot forget that we are all unique and different in our own culture and our own religion and our own backgrounds," Arnaud says. "But our humanity is something that joins us together."