There are times in his life when John Dodge has taken the paradigm of the "struggling musician" to a new level.
"I wasn't raised with much money," explains Dodge. Growing up with multiple moves during his childhood and teen years, there were some times when John and his family weren't sure where they'd sleep from one night to the next.
It was through the horn that Dodge found a measure of stability, and he ended up working toward degrees in that instrument. But becoming a full-time student had its disadvantages. "I started in undergraduate accruing a great deal of debt," he remembers.
Long before he entered the University of Oregon in 2006 to earn a master's degree in horn performance, Dodge began thinking entrepreneurially. Throughout his two years at the UO, Dodge offered horn lessons. He scrapped a conducting project to focus on producing an album of new works, material that would provide more financial return. He even began conducting and performing with regional orchestras on the weekends.
"It was a lot of work every Sunday, to have two to three gigs," Dodge recalls. "But I did it because that was the thing that would keep my business running."
Dodge's plan seems to have worked. Now a principal hornist of the Teatro Municipal de Santiago in Chile, Dodge is a full-time professional musician. But achieving that lifestyle was difficult.
"Students should not operate as students," he says. "They should operate as current business people who are also in training." 
Brave new world
"Once there was an expectation that horn players, or any classically trained musicians, went to school, took auditions, and became full-time orchestra musicians," says Lydia Van Dreel, associate professor of horn at the University of Oregon School of Music and Dance, and Dodge's studio teacher during his time at the UO. Van Dreel encouraged Dodge in his self-promotional efforts. Unfortunately, Van Dreel notes, Dodge's story of success is currently an exception rather than a rule.
"Things are changing in the twenty-first century," says Van Dreel. "There are fewer orchestras, and thus fewer means of employment for musicians following a traditional path."
"In addition," adds Van Dreel, "technological changes have made this a true time of transition for music makers. It's incredibly simple now for musicians to record, package, and market their work. On the flip side, users have become accustomed to downloading what they want for free or for very low cost."
The result of all this, Van Dreel explains, is "a totally altered environment for performing artists, in both positive and negative ways. A great general versatility is now expected of professional musicians. As their instructors and mentors, we need to prepare them for a new paradigm." 
Jenifer Craig, chair of the UO Department of Dance, agrees. 
"That's one of the reasons we try to give such a broad educational map," she explains. Graduate students in the department are enrolled each term in a seminar that tackles real-world complexities, and undergraduate majors are required to take at least two internship credits.
In addition, says Craig, the department encourages outreach efforts to Oregon middle schools, high schools, and community colleges through the touring UO Repertory Dance Company. "The UORDC experience is very comprehensive in nature," explains Craig, "which is what makes it useful for UO dancers as a training experience for possible futures with professional companies or with their own studios or companies."
Craig points to Gina Bolles Sorensen and Kyle Sorensen, two recent graduates, as successful self-promoters. Since founding "somebodies dance theater" in 2008, the pair have augmented more traditional means of promoting their work—e-mail blasts, cross-promotions with fellow artists, and the like—with an engagement-focused model for spreading the word.
"We use social media to share tidbits about our creative process during the rehearsal period," says Kyle Sorensen. "We also teach weekly classes to share our unique movement style with dancers who are interested to see how the material of class translates to the stage."
Hoping more of her students would follow a plan of student-as-self-promoter, Van Dreel drew up a proposal for the "Entrepreneurship and Innovation in Music" series, an initiative that was approved and funded by the School of Music and Dance. During the 2012–13 academic year, the SOMD has engaged in a process of bringing to campus a series of guests to speak about business acumen and life skills for musicians.
The first round of guests, the New York-based horn quartet Genghis Barbie, visited in November 2012, performing a well-received recital in Beall Concert Hall and speaking to the school's Student Forum lecture series. Their topic was "Creating Opportunities, or: How We Made it in New York."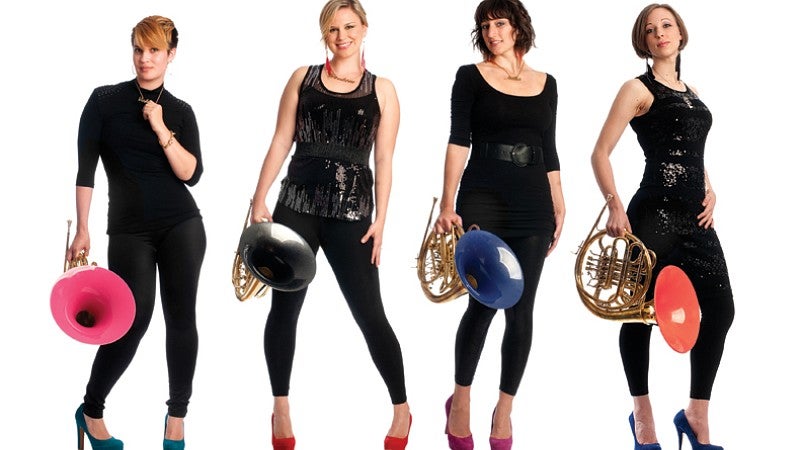 Van Dreel says Genghis Barbie started out as a quartet of "freelancing buddies" who have combined classical and popular music for broad appeal, and lifted a page from the Spice Girls' playbook with stage names such as "Cosmic Barbie" and "Velvet Barbie."
"The Barbies have made a great splash in horn chamber music," Van Dreel explains, "thanks in no small part to their very savvy marketing," which includes efforts that portray the group as dynamic, urban, chic, and even a bit sexy.
The series will also bring to campus the bassist and contract negotiator Nathan Kahn, a musician who works actively in the administration of symphony orchestra contracts for the American Federation of Musicians. Kahn tours the U.S. lecturing on college and conservatory campuses on the subject of career preparation, and about the role of labor unions for musicians.
This year will also see a Student Forum presentation by Patricia Dewey, an associate professor and director of the UO Arts and Administration Program. Efforts are underway to redesign the arts and administration minor to make it more relevant to students majoring in the performing arts.
"All of these efforts," says Van Dreel, "are designed to educate our students about the nonmusical challenges they should anticipate in a performing arts career, but also to orient them to the heights they can reach by managing the business side of their work." 
Both book smart and street savvy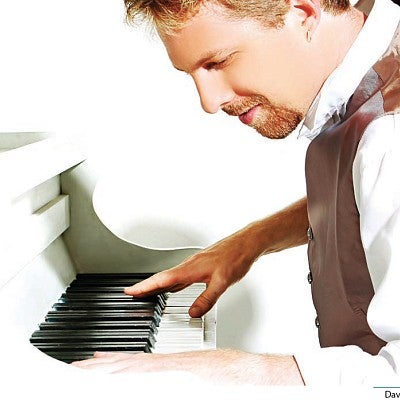 Rounding out the list of guests for the school's "Entrepreneurship and Innovation in Music" series is David Cutler, director of music entrepreneurship at the University of South Carolina School of Music, and author of the book The Savvy Musician: Building a Career, Earning a Living, & Making a Difference. 
An accomplished classical and jazz pianist, Cutler not only performed a public recital in Beall Concert Hall in January 2013, he also engaged in a little behind-the-scenes work with faculty members and students.
Cutler led separate workshops with both faculty members and students in the School of Music and Dance, to help orient the institution to a culture of entrepreneurship, self-promotion, and career preparedness.
"Like so many music students, I thought that my job was to go to school and do a good job," says Cutler. He focused on the same things many students do: awards, grades, and positive feedback from his professors.
Cutler thought he was on the right track until just a month before he earned his master's degree at an East Coast university—at that time a degree he intended to be his final schooling—when he posed a question to one of his professors: "What should I do with my life?"
"For the first time in our relationship, I experienced a new experience—a blank stare," Cutler recalls.
Cutler never intended the offhand query to be a watershed moment, but the more he thought about it, the larger that blank stare loomed for him, leading him to a realization.
Cutler says the questions circling though his mind concerning how he might support himself as a musician "weren't just my problems, they were problems facing an entire community," the community of the performing arts in higher education.
"We as an institution—music schools—have done an incredible job of producing outstanding artists," says Cutler. "But the question becomes, what are [students] going to do? And I feel like there is an ethical imperative."
"I didn't write The Savvy Musician because I was born knowing all the answers," adds Cutler. "I wrote it because I didn't." 
For his work in Eugene, Cutler focused on identifying and codifying what the UO School of Music and Dance already does particularly well, and assisted faculty members in focusing on those areas of expertise.
For their part, says Van Dreel, she and her SOMD faculty colleagues are keen to find ways they can incorporate Cutler's ideas into their standing curriculum.
"There was a time when we tried to make all music schools the same," says Cutler. That time, he says, has passed.
"How does the University of Oregon program go forward to offer a twenty-first century education to its students, and one that allows the University of Oregon to shine as a national leader, and to have its own identity?" Cutler asks.
With the help of Cutler and the other "Entrepreneurship and Innovation in Music" series guests, it may be time for the UO School of Music and Dance faculty to find out.