Kate Rohrich, a senior-year drum major in the Oregon Marching Band, is the very first recipient of the Eric Humphrey Memorial Fund, named for an active OMB trumpet section leader who passed away in 2014 from cancer. Gifts to Eric's fund make possible the unique experiences like those Kate describes in her 2014-15 Bowl travel journal.  
By Kate Rohrich
Photos by Cameron Shultz, Tom Emerson, and Kate Rohrich
June 9, 2015—As a member in the
Oregon Marching Band
, I've had the opportunity to visit so many places to support the Ducks as they've competed across the country. Ducks Football has had an incredible season throughout fall 2014, and the Oregon Marching Band has been there to support them through it all. 
I'm a UO senior and an OMB drum major. I wanted to share my take on our trips to the Rose Bowl and the National Championship. 
Rose Bowl, Pasadena, Texas
December 27, 2014 | Day 1: "Bus Mom"
I woke up 4:30 this morning, checked for what felt like the 10th time that I had all my uniform parts, and headed to Autzen Stadium for bus loading.
As a drum major, I also have the pleasure of being the illustrious Bus 2 "Bus Mom." I take attendance, then organize games and scavenger hunts, to make the bus time pass a little faster.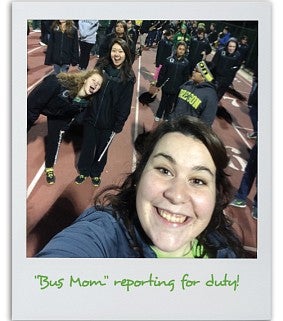 I've taken so many trips with the band that it has sort of become second nature: get on the bus or plane, hurry up and wait, make sure everyone is where they need to be, perform. 
But this trip feels different, for me at least. This will be the perfect end to my four years in the Oregon Marching Band because I will have started and ended with a trip to the Rose Bowl. 
December 28, 2014 | Day 2: Set List
In transit, Sacramento to Los Angeles. We had a pretty late start, but still made it to Glendale College for our second rehearsal of the trip. 
We're starting to work on our set list for the parade, and did a couple laps around the track at the school to practice. For many of us, this is the first big parade they have ever done. 
December 29, 2014 | Day 3: Mentoring
Today we performed at BandFest, a competition-showcase for all of the high school bands marching in the Tournament of Roses Parade! We went to the competition to do an exhibition performance for all the high schoolers, to show them our pregame and halftime shows. 
As we were waiting to warm up we met some insanely talented, middle school-aged kids from a band from Mexico! I loved seeing our group interact with the other bands. Even though they were from different places and spoke different languages, the sousaphone players found each other to take a picture, and the drummers from each band warmed up together. 
I think a lot of my OMB colleagues don't always realize it, but high school and middle school band kids look up to us.
December 30, 2014 | Day 4: It's a Small World
Disneyland! Besides the game, I think this is what everyone in the band was looking forward to most. 
After a quick morning rehearsal, we met with a former OMB drum major who now works at Disneyland. She helped us with logistics for our performances, and it was really cool seeing what a band alumna is doing now!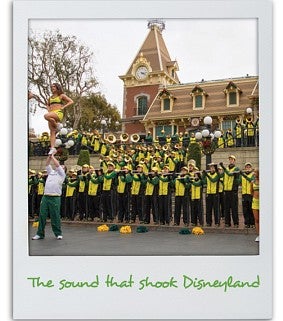 We performed at the Disneyland Railroad station right at the front of the park, and the band sounded awesome! UO musicians were lined up in front of and on top of the train's loading platform, so everyone was really close together and the sound was incredible. As a drum major, I even had the opportunity to conduct the band for a couple songs. 
After we played at the train station we marched down Disneyland's Main Street, then marched in a little parade through the park. 
What's better than getting to hang out in The Happiest Place on Earth with 200 of your friends? Not much!  
December 31, 2014 | Day 5: The Pledge
A rehearsal day for most of the band. When we got back to the hotel this evening we had a mandatory dinner to make sure everyone filled their stomachs with carbs for the next day. We had a huge pasta dinner (with Gatorade to drink, of course). 
We sang "Mighty Oregon" as well as the Oregon Pledge Song to keep us inspired, and were dismissed to go to sleep. Whenever we sing the Pledge Song, it really hits me how amazing this band family is.
Tomorrow is going to be an experience we're all going to remember for our entire lives. 
January 1, 2015 | Day 6: Smelling Roses
Today's the big day! We woke up around 4:00 a.m. After breakfast we headed to the portion of closed-off highway for the Tournament of Roses Parade.  
We had five minutes to unpack our equipment and then head up the on-ramp where we waited on the overpass. You would think we would just be insanely tired, but for me at least, most of the day I was running on excitement and adrenaline.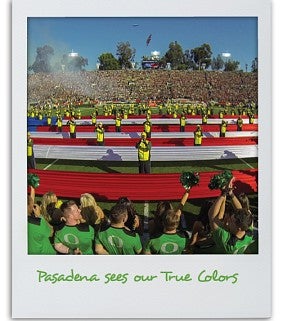 I heard that this was the coldest Rose Bowl day in history, which for us was great. Marching the six-mile parade in the cold made it so much easier. As a drum major, my job was to get the crowd hyped up. Waving to specific people or high-fiving little kids along the route can have such an effect!
The game was one of the most intense and awesome I've seen. The sea of yellow and green made it feel like we were at home at Autzen. 
One of the most memorable moments was playing the National Anthem, complete with our tradition of running banner silks through our form to create a flag across the entire field, and topped off fireworks and a B-2 bomber flyover! It's an incredible feeling to represent not only the University of Oregon, but also our country. 
And, of course, what an awesome game and an awesome win! The energy in that fight song after we won was incredible, and everyone in the band showed their excitement through our music. 
Happy New Year for us!
Kate and her Oregon Marching Band colleagues returned to campus for one week of classes before it was time for a new journey!
Playoff National Championship, Arlington, Texas
January 10, 2015 | Day 1: On the Road Again
Meeting to talk about Texas trip logistics makes me think about my four years in the OMB. I remember when I was a scared freshman just joining the band. Now it's my home and I've made all of the best memories of college with the people in this group. 
After meeting at Autzen Stadium at 4:30 a.m., we headed straight for the Eugene Airport to load up a huge 747 with the band and Oregon cheerleaders. 
Once we landed in Texas, everywhere we went people stopped us to talk about the team's uniforms, how much they like to listen to us, or simply to say "Go Ducks!"
January 11, 2015 | Day 2: Meeting our Rivals
Anticipation for the game is building! 
After rehearsal this morning we played at a pep rally in a huge convention center—one more situation when we didn't really know what the performance was going to look like until we got there. Flexibility is key in a band this size!
I'm a member of Oregon's chapter of
Kappa Kappa Psi
, the music service fraternity, and we met today with Ohio State's chapter at an entertainment center with bowling, arcade games, and karaoke. It was great to hang out with other band kids and not have to worry about the game or our rivalries. We even sang the Kappa Kappa Psi fraternity song together.
This is one of my favorite parts about Kappa Kappa Psi. No matter what school we visit, we're all there for the same reasons: our love of music and our desire to help the music community through service.
January 12, 2015 | Day 3: National Championship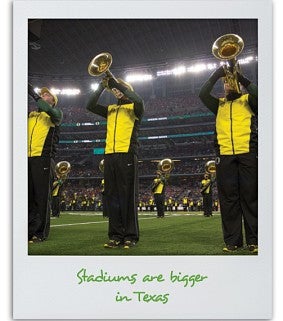 We had an early day with one last rehearsal and a special early morning gig. For every bowl game, fans from the two opposing teams get together to do a service project. We performed at the service project as the Duck fans arrived at the site and played some of our favorite songs.
Then it was time to head to AT&T Stadium, which was huge! We had two more pregame gigs: a
UO Alumni Association
tailgate party, and one final pep rally.
At the pep rally we explained all of our songs, when we play each one, and how the crowd can cheer or chant along with what we're playing. We also helped a band alumnus propose to his girlfriend at the pep rally, playing Bruno Mars's "Marry You" as he brought her on stage! 
Next up, the first College Playoff National Championship game! The game was so much fun, and the energy on the field during performances was incredible. With the stadium being filled with only about 40 percent Duck fans, we had to work hard to get our crowd loud and cheering.    
Even without a win at the end, this season was an amazing one. The team came out with a Rose Bowl win and got to be a part of the first Playoff National Championship game, and the band got to experience it as well, every step of the way!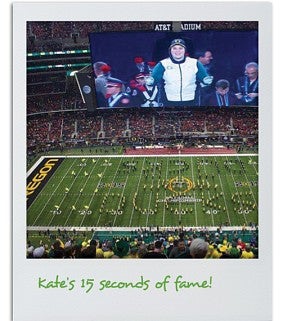 One of the Oregon Marching Band's greatest areas of need is instrument replacement and repair. The band cannot travel if it cannot play! To make a donation to the band's Travel and Equipment Fund or to support the Eric Humphrey Memorial Fund, contact the development office of the School of Music and Dance at 541-346-3859 or by e-mail.