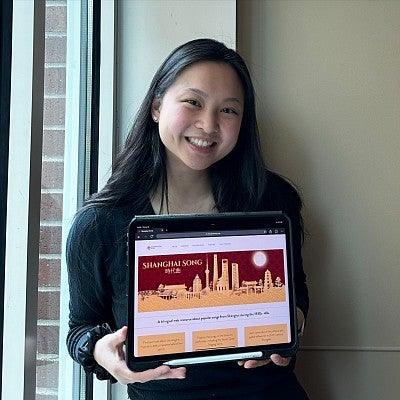 Annie Liu's Cykler Song Scholar project has not only been a challenging academic endeavor, but also a personal one. Awarded $6,000 through last year's Song Scholar research grant, she has used the funds, in part, to develop a Shanghai Song website, which launched April 10.  
"Working on a website is very different compared to writing term papers and performing in concerts, which is what I typically do for school," Liu says. "It's gratifying and exciting to create something that is meant to reach broader audiences and exist beyond my time as a Cykler Song Scholar and student." 
The site explores a genre of popular music from Shanghai in the 1930s and 40s, called shidaiqu. Examining this genre holds deep meaning for Liu and her family.  
"My parents grew up in China and my mother's family currently lives in Shanghai–it is a city I have visited multiple times and that I love," Liu said. "Shidaiqu, to me, represents a musical snapshot of what the 1930s and 40s in Shanghai looked like–the influence of various foreign powers, a mixing of cultures, and a vibrant nightlife. This genre of popular music reveals a lot about the culture, politics, and entertainment of that time, which as a musicologist, is deeply interesting and prompts further study." 
Through her website, Liu hopes the public can experience a genre of music they are unfamiliar with. They can do so by listening to song recordings and learning about the history of the genre and the singers who popularized it. For any musicians or scholars who come across the website, she hopes they consider incorporating the genre into their own research, teaching, and performances. 
The Cykler award also funds Liu's travel to conferences. It has also granted her the opportunity to work closely with Dr. Stephen Rodgers and devote time to her independent research during the academic year, which is a rarity!  
Liu will present the site at the Data|Media|Digital Symposium on April 14 in the Knight Library DREAM Lab.  
The annual Data|Media|Digital Graduate Student Symposium returns for its 5th edition on April 14, 2023.
Join us for a full day of presentations on a wide range of topics showcasing the exciting multi-disciplinary work being produced across campus! pic.twitter.com/y0fsf5847R

— New Media + Culture (@UO_nmcc) April 3, 2023
She expects to graduate in Spring 2024 with her concurrent master's degrees in bassoon performance and musicology, and the new media and culture certificate. Following graduation, she intends to apply to a musicology PhD program.