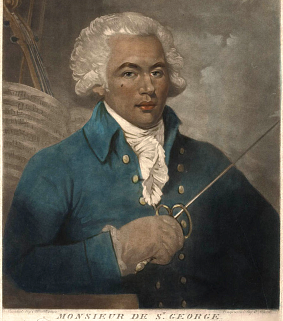 Portrait of Joseph Bologne  Attribution: Mather Brown, Public domain, via Wikimedia Commons 
The story of composer Joseph Bologne has captured the hearts and minds of producers in Hollywood. On April 21, Searchlight Pictures released "Chevalier." The historical drama documents the life of Joseph Bologne, Chevalier de Sainte-George.  
CHEVALIER | Official Trailer | Searchlight Pictures 
Bologne was a Classical era composer, conductor, violinist, impresario, champion fencer, military officer, and nobleman who was born in 1745 to an enslaved woman on Senegalese origin and a French plantation owner in Guadeloupe (Handel + Haydn Society).  
Bologne was well-known and respected in his time. For example, W.A. Mozart and Joseph Haydn knew him and his work well. In fact, Bologne commissioned Haydn to write six new works for his orchestra, Concert de la Loge Olympique. However, his music has been marginalized by historians, concert programmers, and performers. He has, until now, been excluded from the traditional classical music canon.  
Over the past few years there have been great efforts to bring composers like Bologne back into the spotlight where he belongs. The Oregon Bach Festival has joined in those efforts. "Acknowledgement of Bologne's achievements is sorely overdue," OBF Associate Director of Performance Practice & Instrumental Programs, Holly Roberts, said. "There is still a lot of work to be done in this regard, but including him in concerts, as OBF will do this summer, is an important step."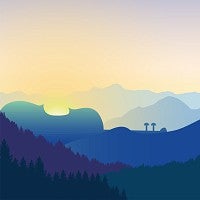 Oregon Bach Festival, Mozart: Paris Symphony 
Bologne's music will be performed by the Berwick Academy orchestra and will appear alongside that of Mozart and Haydn. Guest conductor Jos van Veldhoven decided to include Haydn and Bologne together in this program because Joseph Bologne often led the performance of Haydn's symphonies. "This gave me the idea of combining both their works in a 'new' symphony in the program," Veldhoven said. "In the 18th century, these composers owed much to each other. Why not work together in our time?" 
You can hear Bologne's Symphony No. 2 in D Major on July 8th at 2:30 p.m. in Beall Hall. A pre-concert lecture will take place at 1:45 p.m. in room 163 of the Frohnmayer Music Building on the UO campus. "Mozart and Haydn knew and respected Bologne's music and now OBF audiences get to as well," Roberts said. 
Roberts suggests pairing the concert with a viewing of the new movie. "It is wonderful that there is a full-length feature film that highlights Bologne's life and work. I hope everyone will take the opportunity to watch the film and come hear his music this summer at OBF. It does not matter which one you enjoy first, as long as folks get to experience his music." To search for showtimes in your area, click here.   
Roberts also wants to draw attention to another historically marginalized composer. Marianne von Martínez was a brilliantly gifted and respected composer of her time. As a woman her work, too, was excluded from the traditional classical music canon. Berwick Academy will be performing her Sinfonia in C Major during the same Berwick Academy concert on July 8.  
"There is a movement in classical music to break down the walls of the traditional classical music canon and include music by composers who have been excluded from concert programming," Roberts explained. "Including Martínez on the program is a natural result of OBF's commitment to participating in that movement and diversifying our concerts." 
Bologne's and Martínez's works will be played alongside five other pieces at the Berwick Academy concert. To purchase tickets, head to the OBF calendar and select the concert, titled "Mozart: Paris Symphony."