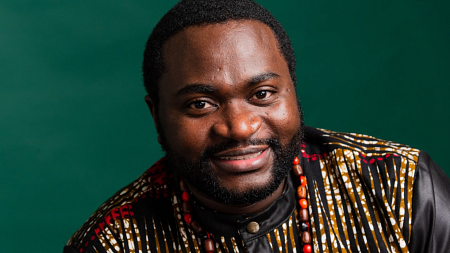 University of Oregon School of Music and Dance (SOMD) alumnus, Lawrence Barasa Kiharangwa, took home second place at the Shreveport Opera's Mary Jacobs Smith Singer of the Year competition over the weekend.
Kiharangwa performed "Una Furtiva Lagrima" from Donizetti's L'elisir d'amore and "Se all'impero, amici Dei" from Mozart's La Clemenza di Tito in the finals to clench the 2nd place prize of $5,000.
"At the end of the day, it's all about having a good time and connecting to the audience, rather than showcasing that you have learned the skills, technique, or language," Kiharangwa said after the competition. "It's all about communication and connection."
Originally from Kenya, Kiharangwa is a tenor who came to the University of Oregon (UO) in 2018. He graduated with a Bachelor of Music in Vocal Performance in 2021. At the competition in Shreveport, he implemented the lessons learned from his SOMD professors during his time in Eugene. He recalled Dr. Sharon Paul's message to sing with joy and meaning, and that everything must have an intention behind it. While on stage, he also had Dr. Karen Esquivel's voice in his head reminding him to "breathe for the phrase."
"Without them, whatever is happening in my life right now wouldn't have happened, honestly speaking," he said about SOMD faculty. "I might be in a master's program currently, but they're just sharpening and fine tuning my skills that had already been nurtured and developed by UO faculty."
Kiharangwa is currently at the University of Maryland for his Master of Music in Opera. He will graduate in May and head to New Mexico where he will be an apprentice singer for the Sante Fe Opera this summer. In September, he will begin his position as a studio artist at the Pensacola Opera in Florida.
Photo courtesy of Caitlin Oldham.