Three Venues, Four Concerts, Five Guests Artists, and Six World Premieres for the Delgani Quartet
November 2, 2015—The Delgani String Quartet is an energetic, young ensemble dedicated to innovative concerts that mix treasured classics with accessible contemporary works.
Composed of UO School of Music and Dance alumni Jannie Wei (DMA Violin Performance, 2013), Wyatt True (DMA Violin Performance, 2014), and Kelly Quesada (MMus Cello Performance, 2013); as well as violist Kimberlee Uwate, the quartet's 2015-16 season will include world premieres, multimedia, and repertoire spanning more than 400 years. Along the way, the quartet will collaborate with two Oregon composers, an actor, a guitarist, and a visual artist.
In an effort to create a sustainable model for chamber ensembles, the Delgani String Quartet is a nonprofit organization, with a mission to cultivate an appreciation for chamber music through distinctive performance, innovative programming, educational outreach, and collaboration.
The group's purpose is to establish a sustainable ensemble dedicated to serving Oregon, especially Eugene, while projecting a strong presence in the community. Alive with interaction, expression, and spontaneity, Delgani strives to create experiences that reflect the intimacy and immediacy of the string quartet.
"Something to Say"
"We all have something to say as musicians, and we've found that performing chamber music is the most rewarding way to express ourselves," explains True. "We also appreciate the responsibility on all of us to take the initiative and make musical decisions."
In 2015, Delgani launched with a sold-out debut in Eugene and an invitation to perform for the House of Representatives at the Oregon State Capitol in Salem. The quartet also performed new music by Eugene-based composer Paul Safar and has appeared as part of chamber music series in Eugene, Corvallis, Junction City, Cottage Grove, Roseburg, Ashland, and Crescent City, California. The ensemble has recorded works by Oregon composers Nicole Portley, Paul Safar, Steffan Schmidt, Jason Heald, Alex LaFollett, and Addison Wong.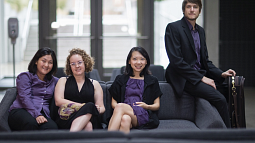 "The largest contribution the UO made to our preparation as musicians was providing an educational environment closely tied to performing opportunities in the community," says True. "The time we spent at the UO was important because of the connections we made with other musicians and organizations. These relationships helped us to hit the ground running last spring when we became a nonprofit organization and started fundraising to support the upcoming season."
The Lane Arts Council recently awarded the ensemble a grant to help produce their second concert, a collaboration with Rickie Birran from the Man of Words Theatre Company. The Oregon Cultural Trust has also awarded Delgani a grant to help with the entire 2015-16 season, entitled "A Celebration of Oregon Art."
Delgani's programming for the season is already impressively diverse, including well-known works by Mendelssohn, Prokofiev, and Ravel; edgier works by Webern, Higdon, and Ginastera; and new commissions by Eugene's own Paul Safar and Terry McQuilkin.
"We are unique in that we rehearse multiple times every week, even without a performance on the horizon," True notes. "We are trying to create a group sound that can only be realized through regular rehearsal. This approach allows us to tackle a variety of repertoires that are not heard often in our community."
Giving 'Bach'
In addition to innovative performance, the quartet is committed to educational outreach and community involvement. Delgani has partnered with the Springfield Academy of Arts and Academics, the Looking Glass Riverfront School, and the Douglas County Youth Orchestra to provide educational outreach to youth throughout the region. The ensemble has also performed benefit concerts for Eugene Symphony Guild, Oregon Mozart Players, and the Fanconi Anemia Research Fund.
"So many musicians follow a roadmap that says, 'practice, graduate, and take auditions,' and this plan works really well for those who view success in terms of landing a teaching or performing job," says True. "However, for us, we are successful when we create meaningful experiences for our audiences. Right now, playing great chamber music is the best way for us to achieve this."
-- Victoria Schmidt