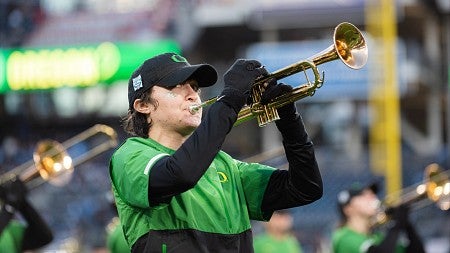 Life for soon-to-be School of Music and Dance (SOMD) graduate, Torrye Torrance, goes at a breakneck pace. A typical day is filled with classes, student teaching, and rehearsals, often stretching to 16 hours of nonstop activity. "And then I go home and melt," Torrye joked.  
Torrye, who uses they/them pronouns, is a music education major with an impressive list of commitments. You'll find them centerfield with the Oregon Marching Band, jamming with the Green Garter Band, pumping up the crowd with the Oregon Basketball Band, and showcasing their talent in the Oregon Wind Ensemble and Jazz Lab II.  
Despite the jam-packed schedule, they would not have it any other way. Music is a significant part of their life, and their interest in it started in elementary school when they had to choose an instrument for the school band. It was Christmastime and Leroy Anderson's "Sleigh Ride" came on the radio, and they marveled at the iconic horse whinny, played by the principal trumpet, at the end of the song. "At the time, I didn't know what instrument made that sound, and then my mom said it was a trumpet, and that was the light switch that made me decide I wanted to play trumpet!" they recalled. What followed was schooling rich in music, from both band and musical theatre.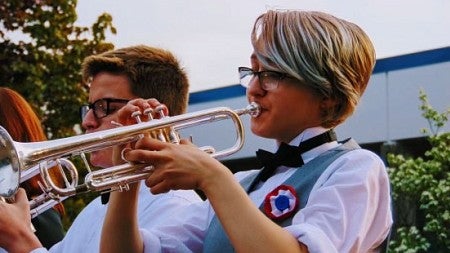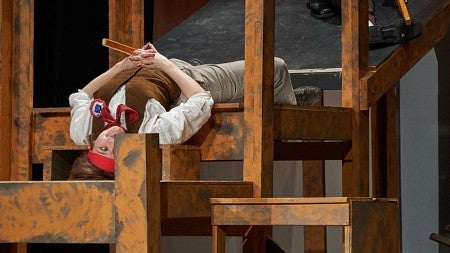 Left: Torrye plays in their high school jazz band & Right: Torrye plays the role of "barricade boy" in their high school Les Mis production
They brought their love for both to the University of Oregon, entering as a theatre major and auditioning for the Oregon Marching Band (OMB). Now a trumpet section leader, Torrye says OMB has been one of the most rewarding experiences they have ever had. "You work for so many grueling hours, maybe in the cold rain or the summer heat during band camp," they said. But on gameday, they say, all that hard work pays off, big time. "The adrenaline rush is unlike anything I've ever experienced," they said. "None of the high school shows or concerts I have done come anywhere close. The minute we start walking down for the halftime show, I'm just buzzing. It's exhilarating!"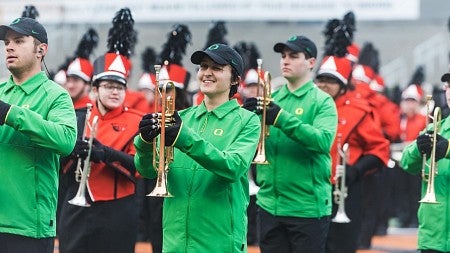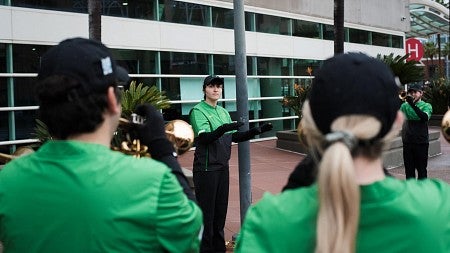 But even the excitement of OMB couldn't totally satisfy their musical hunger freshman year. "It wasn't enough!" they said. "I needed more music. I didn't want to do music just on the side as a hobby." By sophomore year, Torrye went all-in on music, dropping the theatre degree, and adding music education as their major.
For some time, they thought they would pursue a degree in trumpet performance, but after "soul searching" they decided they wanted to teach. "I had a couple teachers from eighth grade to senior year of high school that was incredibly influential and had a large impact on my life," they said. "Especially, my theater director in high school. I have always admired him and looked up to him. I want to give back and be the same influence on future kids as he was on me."
As a queer, nonbinary, trans person, Torrye also wants to represent a safe space for kids. "After transitioning and coming out, one of my biggest priorities developed into wanting to nurture an environment of inclusion and providing a safe space through teaching," they said.
Graduating in 2024, Torrye has their sights set on teaching at the high school level. They may pursue a master's degree down the line and teach in the university setting.