To watch pianists perform a George Walker piece is to experience a feat of athleticism—hands darting and stretching across the keyboard's expanse as they tackle the rhythmically challenging work. Playing as Walker intended demands adeptness and great skill. A wrong note was sure to evoke criticism from the late composer, a fierce protector of his works. Gregory Walker, his son, remembers his unyielding approach. "He didn't make life easy on his performers, and he was completely merciless," Gregory said. "If someone could not figure out his notes, dad would say they should hang it up, somebody else will."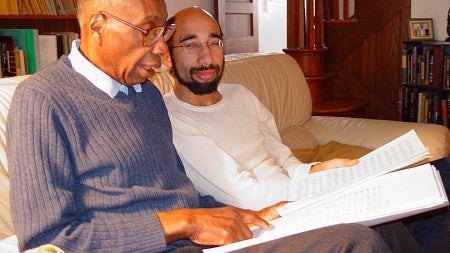 George (left) with Gregory dissecting an unknown work 
That "somebody," brave enough to take on the challenge, is School of Music and Dance (SOMD) Professor of Piano, Alexandre Dossin. For two years, Dossin has meticulously recorded Walker's complete piano works for the world's leading classical music label, NAXOS. "This is a work of passion," Dr. Dossin said. "Walker's music somehow really touched me."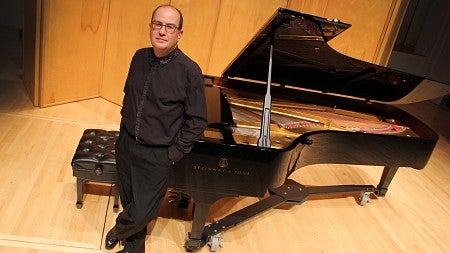 Dr. Alexandre Dossin photographed by Erin Zysett 
His fascination with Walker started at his kitchen table in 2021. As Dossin sat down for breakfast one morning, he stumbled upon Walker's Sonata No. 5. He marveled at the work and questioned why he had never heard the piece before. He searched the NAXOS database, which to his surprise, did not have a single recording of Walker's piano works. As an established NAXOS recording artist, it was at that very moment he launched his mission to record Walker's complete piano works. "Something like this has never happened to me before," Dossin noted. "It was a pure, emotional experience." In less than 24 hours, Dossin went from not knowing who Walker was to committing to recording all eleven pieces. Then, Dossin realized what he was truly in for. "I looked at the scores and learned I was in trouble because they are so technically challenging, extremely difficult," he admitted. "It would be a huge undertaking, very daunting."  
Despite this, he dove headfirst into learning the works. Walker's background and accomplishments drew Dossin in even further to his music exploration. Born in Washington, D.C. in 1922, Walker composed more than 90 works for orchestra, chamber orchestra, piano, strings, voice, organ, clarinet, guitar, brass, woodwinds, and chorus over seven decades. In 1996, he became the first African American to win the Pulitzer Prize for Music, with his work for voice and orchestra, Lilacs. A pianist, he was the first Black musician to play New York's Town Hall in 1945. He was also the first Black recipient of a doctorate from the Eastman School in 1955 and the first Black tenured faculty member at Smith College.  
His commitment to artistic excellence was expected of his children as well. At an early age, George sat Gregory down at the piano, but much to his dismay, Gregory recalls having no aptitude for his father's instrument of choice. "Even as a small child I felt the burn of the pressure of having to live up to him, Gregory said. "Mercifully, I found my grandmother's violin in the attic, and immediately gravitated towards the alternative instrument."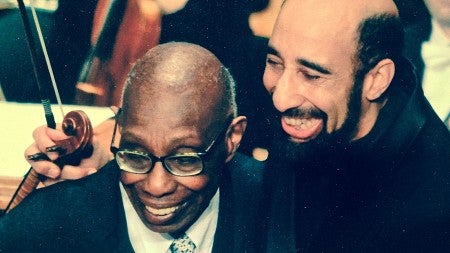 George and Gregory smile after a performance of George's violin concerto at the Detroit Symphony 
Gregory, now a professor at the University of Colorado Denver, is an accomplished violinist and composer, American Academy of Arts and Letters Fellowship recipient, and International Musician cover artist.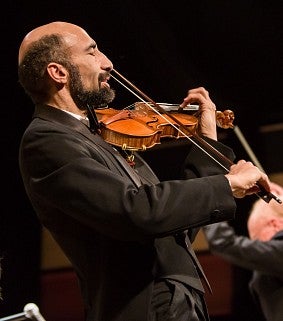 Gregory Walker photographed by Robert King 
As a music scholar, he appreciates the complexity of his father's pieces, and salutes Dossin for taking on the challenge. "It is deeply meaningful that he developed an appreciation for my father's language," Gregory said. "It takes a probing, adventuresome mind to even go there. And then the level of commitment to champion the music to this extent; I have never seen that before. It takes a special kind of artist, and it is very inspirational for me." 
In addition to recording the complete piano works, NAXOS also asked Dossin to record Walker's piano concerto. A recording of this nature necessitates an orchestra. Dossin, with the backing of SOMD Dean Sabrina Madison-Cannon and in collaboration with Associate Professor of Orchestral Studies and Conducting, David Jacobs, will launch it. Named the UO Philharmonia, it will consist of twelve faculty members and about 40 students. "When students get the opportunity to interact with their mentor in real time as it relates to the rehearsal process, they gain valuable insights into real world expectations and practices." Students will also walk away from the experience with their names on an internationally released recording with the world's largest classical music label, Naxos. Jacobs is thrilled to honor the trailblazing composer, George Walker, while also challenging the students taking part. "What's exciting about the concerto is that students will encounter a different tonal language," he said. "It is very rhythmically dense and challenging, which will provide an excellent opportunity for growth."     
Dossin knows well that to be successful in recording the work for NAXOS, they cannot simply play the notes. They must immerse themselves in the piece. "It is not obvious and easy music to like," Dossin said. "You leave wanting to hear more and that is why the recording is so important. You can listen to the works again."  
The UO Philharmonia will perform the West Coast premiere of Walker's piano concerto on November 20 in Beall Hall at 7:30 pm, with a recording to follow. Volume 1 of Dossin's recordings of Walker's complete piano works is set to be published in April. Volume 2 is slated for June. To aid pianists wishing to tackle Walker's works in the future, Dossin is also working with publisher Keiser Southern Music to add fingerings and performance indications into a complete edition of Walker's solo piano works, which will also include historical notes and a biography. Since 2021, Dossin has traveled the country performing Walker's works and presenting lectures. His goal is to travel to all 50 states to spread the word about the rich, sonorous work.