Congratulations to the 2023-24 Cykler Song Scholar Winners, Paula Alva Garcia and Madison Stepherson!
This award serves to provide financial support and mentorship to graduate students interested in pursuing original research related to song and to encourage the exploration of underexplored song repertoire. Paula and Madison will be provided a $6000 research award and mentorship from Stephen Rodgers, Edmund A. Cykler Chair in Music and Professor of Music Theory and Musicianship, over the course of the 2023/24 academic year.
---
Paula Alva Garcia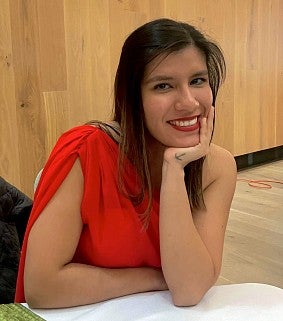 About Paula's project:
My project focuses on the music of Rosa Mercedes Ayarza de Morales (1881–1969), a Peruvian composer, choir conductor, promoter, and music teacher. Ayarza de Morales was a prominent figure in Peruvian music, dedicating her life to promoting and preserving Peruvian folklore. Her extensive collection of Peruvian music covers a diverse range of genres, including marineras, tonderos, zamacuecas, valses, yaravíes, tristes, pregones, huaynos, festejos, and more. The outcome of my research will be a recital presented at the School of Music and Dance with fellow musicians from the Latinx community. Additionally, I plan to publish an article about Ayarza de Morales and record some of her songs that have not been recorded before, contributing to the preservation and dissemination of Peruvian music.
---
Madison Stepherson
About Madison's project:
My project explores the songs of country singer-songwriter Miranda Lambert. Despite country music's popularity and Lambert's commercial success, both the genre and her songs are underrepresented in music scholarship. In a scholarly article and a conference presentation (intended for the International Conference for Country Music) I will investigate how Lambert constructs her unique feminine persona and uses it to communicate with her audience—specifically with listeners who identify as rural white women. Through her songs, Lambert creates a sense of community with these listeners and speaks to issues that they can relate to, such as domestic abuse and marital issues. In this way, she exists within the so-called "feminist countercurrent" of country music but at the same time presents a different version of female identity and empowerment that is partly at odds with mainstream, liberal feminism.