Thanks to the support of our alumni, parents, and friends, the UO School of Music and Dance is the Pacific Northwest's premier experience in music and dance higher education. The school aspires to move ahead in growing its national and international reputation and standing. Our campaign is ambitious, and we will become stronger with your investment.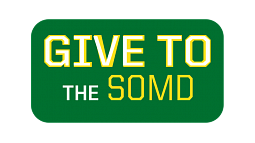 Campaign Goal: $24 million
Raised as of June 30, 2018: $18.53 million
STUDENTS
Goal: $10 million
The UO is the school of choice for many students. Unfortunately, some of the most deserving and talented select other institutions simply due to the aid packages they are offered. A vibrant scholarship endowment ensures that these students can achieve their dream of becoming Ducks regardless of economic circumstance. Scholarships are essential in helping our artists launch their careers without the burden of excessive student loan debt. In addition, UO-funded travel to regional, national, and international conferences and festivals expands our students' opportunities, not to mention their world views.
FACULTY
Goal: $1 million
Many students are attracted to the UO to study with our renowned faculty, so attracting and recruiting top professors and instructors is paramount. Our students find their place at the UO and in the world by following the lead of their mentors. Supporting our faculty allows them to strengthen the curriculum and to engage students in creative and research endeavors, and will expand the UO's reputation and influence—both domestically and abroad—as a top performing arts institution.
PROGRAMS, INSTRUMENTS, AND TECHNOLOGY
Goal: $9.5 million
We're training students to be professionals, not just performers, so career preparation is central to our mission. Twenty-first century learners anticipate playing on top-tier instruments, utilizing state-of-the-art technologies, and learning from the most talented guest artists and scholars. Private donations allow us to consistently renew our resources and programming to keep them concurrent with students' evolving needs and expectations.
FACILITIES
Goal: $3.5 million
Well-maintained, cutting-edge facilities for performance, rehearsal, and research provide a higher quality student experience. In particular, our beloved Beall Concert Hall is overdue for an upgrade. In 2024 this symbolic heart of our music facilities will mark 100 years as the UO's chief concert venue. We cherish Beall Hall, but we cannot deny that she is showing her age. After a year of consulting with professional acousticians, we have a simple and effective plan for addressing ongoing problems with sound amplification in the hall, including a large curtain, sound diffusion panels, and a new sound cloud above the stage. Enhancing the capabilities of the equipment used for our popular live-streamed concerts offers the possibility of expanding the reach of our performers worldwide.
---